'Casual': Vincent Kartheiser on Smarmy Roles and Tiny Homes
Vincent Kartheiser plays Jordan, the venture capitalist who swoops in to help Alex (Tommy Dewey) spiff up his dating website on the Hulu dramedy, currently streaming its second season. He appears on episode four, which debuts on Tuesday, June 14.
The Issue
They find out their love lives have some overlap. "It's something they probably would have never found out," Kartheiser says. "Jordan is just trying to fit in without causing too many waves. He's all about being the new-age, hip boss. Alex is forced to attend a social engagement at his house and it's beyond saying that tragedy ensues."
RELATED: Casual's Quiet Family Drama Avoids the Usual Clichés
Where You've Seen Him Before
He freaked the wits out of Angel fans as the titular character's superhuman son in the early aughts, but Kartheiser is best known for playing unforgettably smarmy adman Pete Campbell on Mad Men. "I've been offered a lot of Pete-type roles since," he says, "but that's the nature of the industry. Even Jordan has some connection to Pete, and it's good. It's a position the audience is familiar with when it comes to me."
Why We Love Him
Kartheiser knows the best way to make a regular guy like Jordan funny is to not make him funny at all. "That would be a big mistake, at least for someone like me," the actor says. "I just try to allow the good writing and Tommy to be the comic elements."
Cat's in the Cradle
Before moving in with wife Alexis Bledel (the pair welcomed their first child, a son, last fall), the Minnesota native and his Siamese cat Simon lived in a cabin in the Hollywood Hills that—at 580 square feet—was smaller than many New York City studios. "He didn't even have cat litter," Kartheiser says. "I would just take him outside to the woods."
Casual, Tuesday, June 14, Hulu.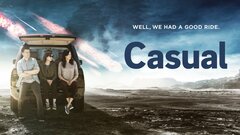 Casual
where to stream
Powered by