Cheers & Jeers: The Upfronts Edition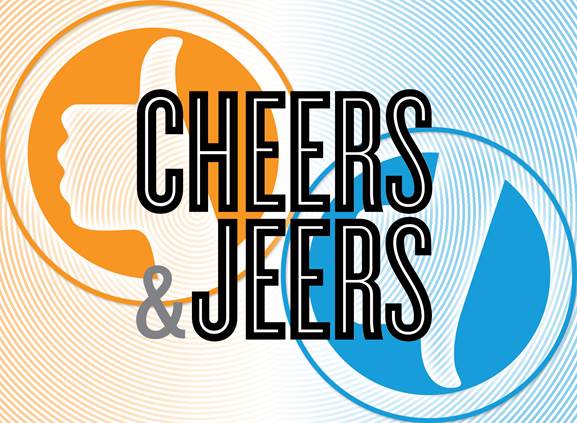 This week saw the networks unveiling their new lineups and shows to the press and advertisers, so we here at C&J decided to devote some space to what went down.
Cheers to a Pitch perfect trailer.
Fox's baseball tale about the Major League's first female player (Kylie Bunbury) hits a triple play of female empowerment, family drama and male-skewing world of pro sports that, if done correctly, could fill the stands with fans of all demos for the net.
RELATED: Read More Cheers & Jeers
Cheers to NBC for trying comedy. Again.
Recently they've had a terrible track record with launching comedies, but with promising projects like Great News from Tracey Wigfield and Tina Fey, the true-crime mockumentary Trial & Error and The Good Place, starring Kristen Bell as a horrible woman who winds up in heaven due to a clerical error, the Peacock hopes to finally make us laugh with them, not at them.
Cheers to everyone who is about to discover Kaitlin Olson.
For almost a decade, Olson has been killing it as Sweet Dee on It's Always Sunny and now, she is poised to break big with Fox's The Mick about a trashy opportunist who inherits her rich, imprisoned sister's kids. Nobody does low-brow lunacy and physical comedy better, and if they can reunite her with Sunny costar Mary Elizabeth Ellis (late of The Grinder), we could have our new Tina and Amy.
Jeers to CBS for playing it safe.
Why go with Drew, the well-tested and welcomely diverse spin on Nancy Drew with Sarah Shahi as the classic gumshoe when you can pack your slate with canned laugh tracks, white male-led shows with occasional pops of color in supporting roles and remakes of Training Day and MacGyver that nobody asked for?
Jeers to the impending reboot-apolooza.
Aside from the above mentioned Training Day and MacGyver, the next season is also bringing us rehashed editions of Shooter, Taken, The Exorcist, Star Trek, Lethal Weapon, Prison Break, 24, Tales From the Crypt, Time After Time and Emerald, a wickedly stylized version of The Wizard of Oz that looks like Fashion Week on poppy seeds.
Jeers to The CW for making us wait for Riverdale.
The edgy adaptation of the Archie Comics world has a hot cast, a cool concept (sex and murder amongst the iconically clean-cut teens?!) and, unfortunately, a mid-season slot. Apparently, Jughead got a job in the scheduling department.