5 Reasons 'American Ninja Warrior's New Season Is Better Than Ever
TV's obstacle course of awesomeness is back, and according to hosts Matt Iseman and Akbar Gbajabiamila, Season 8 is definitely one you are not going to want to miss. Here are five solid reasons for that.
The ANW course has gotten a major facelift.
"It's almost entirely new!" Iseman previews. "We always like to change things up, but after having two athletes [successfully complete the course] last year, we've really stepped things up." In some cases, he means that literally: Iseman says that the iconic Warped Wall "is now half a foot taller at 14.5 feet."
RELATED: This Amazing American Ninja Warrior Clip Will Put Your Gym Goals to Shame (VIDEO)
The competitors have gotten tougher.
Gbajabiamila reports that the show's popularity has led to athletes "building courses in their backyards and training at Ninja gyms" around the country in hopes of scaling Mt. Midoriyama. "We are seeing ordinary people do extraordinary things," he says. "When you quit your job to train full-time for a year, that's when you know it just got real."
The show will prove to be even more inspiring to viewers.
Among those hitting the field are Michael Stanger, a Season 7 hopeful who reduced Gbajabiamila to tears while competing to raise awareness of a terminal genetic disorder afflicting his wife and two daughters, as well the WWE's Zach Gowen. "[He] lost his leg to cancer as a youth and hasn't let it stop him from anything," Iseman praises. "He's just one of those competitors whose spirit will leave you asking yourself, 'Really? What's my excuse?'"
RELATED: American Ninja Warrior Producer on the Show's Historic Finale
Famous faces will be thrown in the mix.
IndyCar racers Helio Castroneves, Tony Kanaan and Josef Newgarden are all set to take on a specially designed course during the Indianapolis tryouts.
You will see bodies in motion in a jaw-dropping new way.
"You will believe a woman can fly," Iseman hints of the season's biggest shocker, while Gbajabiamila can't wait for fans to see "a drop-the-mic performance that may break the internet."
American Ninja Warrior, Season Premiere, Wednesday, June 1, 8/7c, NBC; Encore replays air Wednesdays, 8/7c, Esquire Network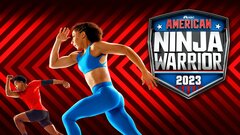 Powered by