'The Flash' Finale: Teddy Sears on How Zoom Pushes Barry to His Limit
Barry Allen (Grant Gustin) is in for the race of his life, which also happens to be the title of The Flash's pulse-pounding Season 2 finale. And it's not just his speedster nemesis Zoom (Teddy Sears) who has him running wild. "Something extraordinary happens at the end of the [previous] episode that is just shocking," Sears says, referring to Zoom murdering Barry's father, Henry (John Wesley Shipp). "It's totally out of left field." It's also part of the catalyst that throws Barry, who has endured so much already at the hands of his black-suited foe, into a mad dash to destroy Zoom once and for all.
RELATED: Kevin Smith Previews His Flash Episode: "There's Gonna Be Crying"
Barry had better hop to it: Zoom still has that master plan to take over Earth-1 and wipe all of the alternate universes out there off the timeline. "He wants to lord over Barry's planet," Sears continues, adding that his character—also known as homicidal time-jumper Hunter Zolomon—may be driven less by supernatural evil than simple human envy. "For all of Zoom's obsession with Barry, I think Zolomon sees him as the guy he could have become. There is a jealousy there."
RELATED: The Flash's Ramon Boys Face a Grim Reaper
The best way to settle a grudge match between the two speed freaks? A race. But since we're talking about the fate of the multiverse, as well as the S.T.A.R. Labs team and whomever Zoom has locked in that iron mask (yes, that will be revealed!), the stakes are a lot higher than bragging rights, Sears hints. "You can't imagine that it's all about Zoom racing Barry. There is certainly more to it."
The Flash, Season Finale, Tuesday, May 24, 8/7c, The CW.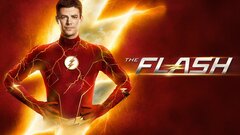 Powered by