Kevin Smith Previews His 'Flash' Episode: 'There's Gonna Be Crying'
When it comes to geek culture, there are few more versed and invested than filmmaker Kevin Smith (Clerks, Dogma). A lifelong comic-book fan, Smith has written for both DC Comics and Marvel, and owns his own shop in Red Bank, New Jersey, that is the subject of his AMC series Comic Book Men. So it makes perfect sense that Smith was invited to direct an episode of The Flash. Here, he opens up about the education he got from Grant Gustin and company, as well as why he is so damn excited about what fans will see when the end product airs Tuesday.
It is no secret that you are a massive a comic-book fan, so this is one of those "Why did it take so long?" kind of things.
[Laughs] I'm with you on that! But I know why it took so long. I would never think about doing episodic TV prior to this, because generally when you come into a series that's up and running, there is a tone already set. And for me, well, I can't do that. I can only do me, so to speak. So when I directed a pilot for Reaper for The CW a few years ago…
That was the last thing you did for TV, right?
That was the last thing I did. But that was a pilot, so you establish the tone. Moving into a show that's up and running, you're gonna stick out. And I'm a big fan of The Flash, so I really didn't want to stick out. I really didn't want it to be like "That's clearly the episode that Kevin Smith directed!" I wanted to be as seamless as the other ones and fit into the larger story as the whole. So I went in less as "Hey, I've been making films for 22 years" and more like a guy who's read comics my whole life. I've watched this show for the last two seasons, so I directed more like a fan. I directed that show like I was a Baptist preacher on coke, man! [Laughs]
RELATED: The Flash's Ramon Boys Face a Grim Reaper
How was it?
You know, it was very JFK: Ask not what The Flash can do for you, but what you can do for The Flash. I was trying to figure out how they do this on a regular basis. They get 50 pages a week to shoot in eight days, that's it. When you're shooting a feature film, it's usually, say, a 100-page script [and] they usually give you a month, or two months. So for them to pull off what they do, every week, in that short amount a period of time, I just wanted to know how it was done! And I got to learn that. As a filmmaker, I learned more in the eight days of directing The Flash than I have in my previous 22 years of making my own films.
Wow! What episode did they let you have this fun with? What's the story?
The episode's called "The Runaway Dinosaur," and what happens in the episode prior to mine last week, Barry tries to get his powers back, and they replicate the particle explosion that gave him its powers, but it apparently kills him. In our episode, we find out it did. It flat-out put him into the Speed Force. He's gone. So we have a whole episode where essentially Barry meets his maker. It's certainly not "Barry's in Heaven!" but it's Barry in the Speed Force, which is kind of like their version of heaven to some degree. It's a very introspective episode. I think I was good for directing it because I'm a 45-year-old man, so half of my life is more than over—I'm always introspective and stuff! This is an episode about somebody who's lost their life, who's looking back but is also struggling to get back. And you don't know if he can get back.
RELATED: 5 Things We Loved About the Supergirl-Flash Crossover
So lots of emotion?
It's powerful stuff. It allows Barry to interact with his Maker in the form of people who are important to him. The show is built on three pillars: Heart, humor and spectacle. There's a lot of heart in this episode. There's definitely spectacle, and there's humor, but oh my god, with this episode, you've gotta bring two boxes of Kleenex. There's gonna be crying.
And since you are such a comics fan, to get to do an episode that's so heavily set in the Speed Force…
It was perfect, dude! I didn't know what I was gonna get. You know, the whole thing came together very accidental. I didn't pursue it. Jason Mewes' wife, Jordan, runs our company, and she called up my agent and said, "He keeps talking about The Flash. He loves it to death. Why don't you call and see if they'll let him direct an episode?" So my agent called up and said like, "Hey, you know Kevin Smith?" They're like yeah, Dogma. "He likes Flash, would you ever let him do an episode?" And they said yeah, sure. So suddenly, boom, it came together and whatnot. That's exactly how I got the job. But I didn't know what episode I was getting, and they don't send you the script until you get up there to shoot. So I went up to Vancouver for pre-production and when I got there, they handed me an episode of the script and when I opened it… Dude, it was like being at a poker table and being dealt a Royal Flush.
The Flash, Tuesdays, 8/7c, The CW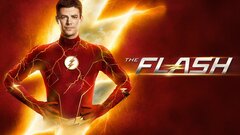 Powered by