'Castle' Bosses Pen Emotional Thank You Note to Fans
Warning: this post contains spoilers for the Castle series finale.
Castle closed its final chapter.
In the final moments of the (now) series finale, both Castle (Nathan Fillion) and Beckett (Stana Katic) were shot in their home by Caleb (Kris Polaha). Beckett managed to take out their foe, but the couple appeared to be gravely injured in the episode's final moments.
Things looked grim as the duo crawled to each other and held hands…but then the camera panned away and Castle and Beckett's pilot-ending conversation (where she rebuffed his attempt to ask her out) played.
Then the show jumped ahead seven years, as Castle and Beckett enjoyed life with their three young children, and the dialogue from the past played, ending with their "Always" vows.
Related: Castle takes on the Oscar nominated films
The tag was part of a planned alternate ending in case the series didn't get picked up for an anticipated ninth season. (When the last episode was shot, it was unknown whether the series would get picked up for the 2016-2017 season.)
Castle showrunners Alexi Hawley and Terence Paul Winter penned a note to the long-running drama's fans, cast, and crew, in light of the final episode of the series airing.
While we're still trying to process all the emotions stirred up by recent events, the feeling that stands head and shoulders above all else, is gratitude.

Eight seasons. A hundred and seventy three episodes.

None of it would have been possible without you — our loyal and passionate fans. You are the reason this show survived and thrived. Without you carving out "Castle Mondays" every week, we would never have been able to make the show we love for as long as we did.

So thank you.

And thanks to Andrew Marlowe for creating such a delightful world, centered around a love story for the ages. It was an honor and privilege to shepherd the story of Castle and Beckett this season.

And finally, thank you to our cast and crew, who have been our family for these last eight years. Who elevated every script by investing the best of themselves into each episode. We will miss you profoundly.

Alexi and Terence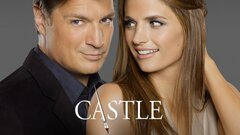 Castle
where to stream
Powered by