'Castle': Stana Katic, Tamala Jones to Exit After Season 8
Castle may live on beyond Season 8, but it will have a drastically different look going forward: ABC has confirmed Stana Katic (Beckett) and Tamala Jones (Lanie) will not be in a potential Season 9.
"Kate Beckett has been a beloved character on our hit series Castle for the past 8 years," ABC said in a statement. "We are grateful for Stana Katic's talent and dedication to the series and we hope to continue our relationship. Tamala Jones has also been an integral part of the series and we are grateful she was a part of Castle."
RELATED: Castle's Mysterious Disappearance Is Finally Solved
While both women had been a part of the series from the beginning, Katic also serves as the female lead—and her Beckett was originally the tie to title character Richard Castle's (Nathan Fillion) investigations with the NYPD. Over the course of the series, the duo fell in love, and were married. (They also briefly split up this season, as part of Beckett's attempt to protect her husband.)
Per Deadline, which first broke the news of the departure, Katic and Jones were not asked to be part of a potential ninth season. (ABC has yet to reply to a request for comment on that.) "Rather then distract from what was an amazing experience, I would just like to say that I'm very grateful to ABC for giving me the opportunity to be a part of a much beloved show," Katic told Deadline in a statement. "Thank you to the fans."
RELATED: See Castle's Clever Nods to This Year's Oscar Nominations (VIDEO)
Last year, Castle had a later-than-ideal renewal…and Katic signed on to return after the fact. Earlier this season, the Castle bosses acknowledged there was the possibility the show could exist without one of their leads, but they hoped to not have to deal with that. "I see that being the hardest episodes of Castle to write, if it happens," executive producer Terence Paul Winter said at the time. "Let's cross our fingers and hope it doesn't. If it does, we'll buckle down and figure out an honest way to tell that story. It's hard to speculate … It may not happen, and hopefully it doesn't. We love our cast, and we'd love everyone to come back."
Castle airs Mondays, 10/9c, ABC.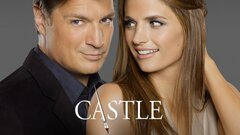 Castle
where to stream
Powered by