Jada Pinkett Smith is Over The Moon(ey) about Her Return to 'Gotham'
It's alive! Gotham's finest are on the hook tonight when Jada Pinkett Smith makes her long-awaited return as Season 1 badass standout Fish Mooney. Last seen being tossed into the harbor—and what looked like a very watery grave—by former underling-turned-King of Gotham Penguin (Robin Lord Taylor) during last May's finale, the glam-maniac mafiosa is rising again thanks to Hugo Strange (BD Wong) and Smith is as thrilled as we are to see that this Fish didn't get the hook after all.
Welcome back to Gotham. It's about time!
I know, I can't tell you elated—elated—I was when Bruno [Heller, EP] called me. I really thought that [finale] was it for her. When I went over the wall last season, oh my god. I went through a whole mourning period, thinking that she was gone. It took me forever to take off my Fish Mooney nails! I didn't want to let her go.
RELATED: Gotham's Gordon and Bullock Get Some Strange (VIDEO)
We just assumed since we didn't see a body…
That is what everybody said! But I was like, you know, that was a big fall. That was pretty final. So then Bruno called me around mid-season saying he'd found a way to bring me back, I was like "I would love to do that!"
And I love that the first thing Fish does after being revived is start ordering people around.
[Laughs] Exactly! Yep, Fish Mooney. Back!
How is it being back with everyone on set? It's a very different show this season.
Yeah it is, but in the most beautiful way. I think the show has really figured out what it is. Every show needs a minute to find itself. But it was the same hair and makeup people, pretty much the same crew…and everybody is still so wonderful to work with. It felt like I had only gone away on vacation. [Laughs]
RELATED: Gotham: First Look at Azrael In All His Crazy Glory
We are fully expecting a huge moment between you and Robin Lord Taylor.
I can't tell you! But I promise that the last scene of the finale will have people on the edge of their seats for sure.
And what is with this costume? It's like some crazy X-Men outfit.
I know! You're gonna see why that costume is significant in the finale, too.
Is there anything about Fish that is different now that she has been resurrected?
You will find out in the season finale [next week] what her 2.0 version is like. She has come back new and improved. She doesn't quite know how yet, but in the finale, you will see that she realizes that she is not the Fish she thought she was.
Scarier?
Oh she is scarier! I don't know what the hell Penguin is going to do with her now! She has some new skills and has come back with a whole new get-down. Folks had better watch out, that is all I can say.
Gotham, Mondays, 8/7c, Fox.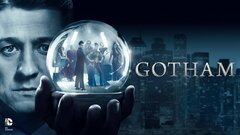 Gotham
where to stream
Powered by