'Gotham': First Look at Azrael In All His Crazy Glory
Spoiler alert! This story contains spoilers from this week's episode of Gotham.
It's alive! Gotham viewers on the East Coast just witnessed the resurrection of Theo Galavan (James Frain), villainous politician and the Penguin's former umbrella stand, who was brought back from death by Hugo Strange (BD Wong) and his Project Chimera experiment. Teased all week as Indian Hill's "Patient 44," Galavan—who was offed in the mid-season finale by Gordon (Ben McKenzie) and Oswald (Robin Lord Taylor)—got right back to being bad with an attack on the medical attendants overseeing his return from the beyond.
RELATED: Who is Gotham's Patient 44?
And trust us, it's only going to get grislier from here on out once the no-longer-deceased madman becomes Azrael, a deadly assassin for the Order of St. Dumas, which was founded by Galavan's ancestors. Here is your first look at Frain all suited up in Azrael's leather-and-lunatic garb (note the broken sword…that can't be good).
RELATED: Is Gotham's Nygma About to be Caught?
DC Comics fans will note that the character was first introduced as Jean-Paul Valley in the pages of Batman: Sword of Azrael back in 1992 before taking over as Batman for a stint the next year while Bruce Wayne recovered from his back-breaking battle with Bane. In 2009, Azrael rose again as Michael Lane, a brainwashed pawn in Ra's al Ghul's plot against the Caped Crusader and company, but while there is no word on whether the Galavan edition of the super-strong killer will wind up as redeemably heroic as these two iterations, we can imagine a few unprintable words that'll be running through Gordon's head the first time he sees this one walking around his city again.
Gotham is back with new episodes on Monday, May 2, at 8/7c on Fox.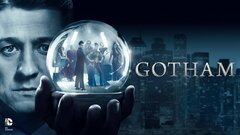 Gotham
where to stream
Powered by