Tom Selleck and 'Blue Bloods' Costars Dish on Sunday Dinners and the Season 6 Finale
Sunday dinner with the Reagan family is about to get more heated than usual. No, Blue Bloods viewers shouldn't expect swearing or punching, but the CBS drama's sixth-season finale features a volatile case involving police brutality against minorities that tests the familial civility during the weekly meal at the stately Brooklyn home of NYPD Commissioner Frank Reagan (Tom Selleck).
Those family dinners, a hallmark of each episode, are a big reason for Blue Bloods' ongoing popularity: In its sixth season, the show has won every Friday-night ratings race it's been in, averaging 10.5 million viewers who watch live.
"Legal and police cases drive the episodes," says executive producer Kevin Wade, "but we're careful to choose stories where there's a built-in dilemma for our characters, and they consult one another as to whether justice is in fact black or white." The season-ender "is a Blue Bloods template," Wade continues. "It's a street-level crime story that ends up drawing our main characters not only into that story, but into conflict with each other."
Though Selleck, whose authoritative but fair-minded top cop is Blue Bloods' spine, says he takes a "certain pride that [we] don't rip stories from the headlines—that's lazy," he does concede that the show often deals with what he calls "police-related issues that the public grapples with in the culture. This is a show that presents arguments on both sides of a heated contemporary issue."
RELATED: Tom Selleck on Blue Bloods and a Life on TV
Mirroring the kinds of cases that have provoked protests and launched the Black Lives Matter movement, the episode (airing Friday, May 6) follows the repercussions of a leaked video from a cop's body cam showing what looks like a white cop shooting a young Hispanic man whose hands are raised in surrender. Increasing the tension, the police officer had been cleared by a grand jury prior to the video surfacing. The interpretation of the video "turns into an 'If you ask 10 people, you get five answers one way and five answers the other way' [situation]," says Will Estes, who plays Jamie, the youngest Reagan child, a Harvard Law grad turned beat cop.
"The leak sets off an unfortunate turn of events, which happens when people base decisions on emotional responses as opposed to having all the information," explains Bridget Moynahan, who plays Erin Reagan, Frank's daughter and an assistant district attorney. Her office is tasked with finding out who released the incendiary video.
As Frank works to calm any rising anger in the city, his job is made harder when New York Mayor Carter Poole (David Ramsey) publicly decries the grand jury's decision. Unsurprisingly, the commish believes that body-cam videos may not tell the whole story. This is the type of complex situation that Selleck loves to sink his teeth into. "I'm very proud that we present these issues in a well-rounded way," he notes. "It's not a deck that's stacked for the show's lead characters. Frank and the mayor have a deep, abiding respect, despite how often they fight."
While the show obviously emphasizes the police perspective on cases, Wade makes it clear he doesn't intend to do "propaganda" for the NYPD. "We take the issues, throw them into the middle of the table and let everybody have a fork full."
As the DA's office searches for the truth in the killing, tragedy strikes again when a cop is shot in his patrol car, in what appears to be retaliation for the earlier shooting. Det. Danny Reagan (Donnie Wahlberg), Frank's oldest child, and his partner, Maria Baez (Marisa Ramirez), go on a manhunt for the shooter. "It's an extreme situation that needs delicate handling," Wahlberg says. "Danny's a hard-nosed cop who will always lean toward a fellow officer, but if the cop proves to be wrong, he will speak the truth—like all the Reagans."
That includes his wife, Linda (Amy Carlson), an ER nurse who's unafraid to disagree with her husband's strongly expressed opinions as he chows down at dinner. (Wahlberg is famous on set for how much of the food he eats during filming.) "Linda is an empathetic person who offers the civilian perspective," Carlson says. "In this case, her question is, 'Why do shootings by cops happen so often?' One of the reasons that Blue Bloods is so popular," she says, "is because it reflects many things that weigh on all of our minds."
Though Frank hashes stuff out in his office with his loyal but strong-willed mouthpiece, Garrett Moore (Gregory Jbara)—who sometimes entertainingly brings his boss to heel—much of that weighing happens on the home front.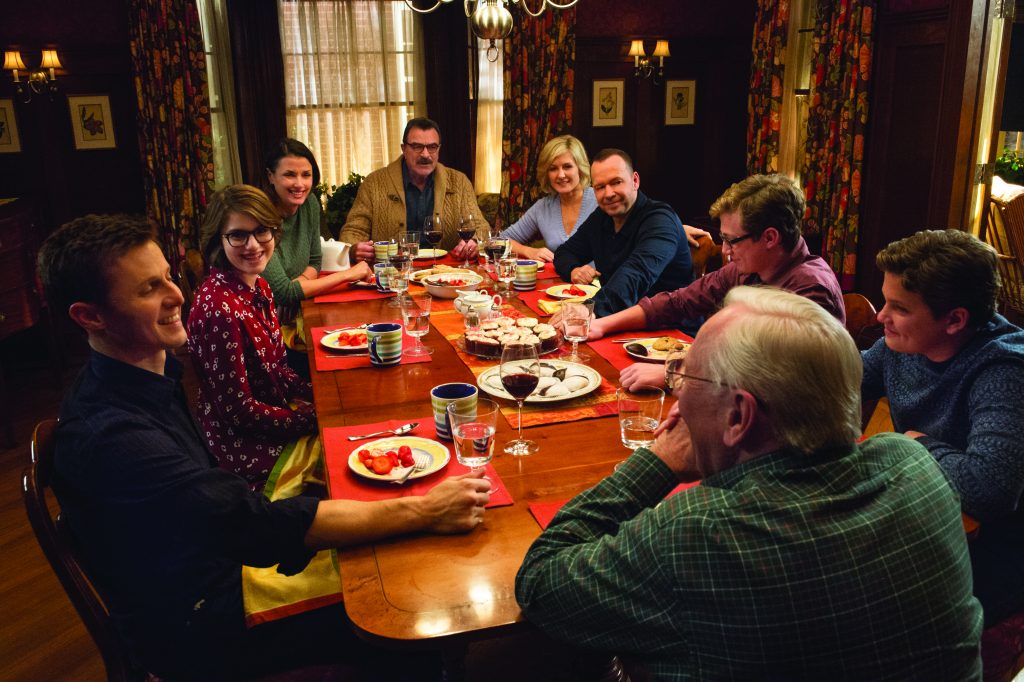 Each cast member seems to have a theory as to why the family sit-downs resonate with viewers. To Len Cariou, who plays Frank's dad, Henry, a retired NYPD commissioner himself, it's "the relatability. When I was a kid in Canada, you'd better have a damned good excuse not to be at Sunday dinner. It's something that most people have had in their life, or wish they did." To Moynahan, it's "not just the family getting together, it's the conversation. I've been told by many people, including lawyers and police, how much they enjoy how sensitive and important issues like race are discussed in ways that are not left or right, but in a smart way by characters who come at the subjects from different points of view."
The family meal/debate/therapy session was the first scene shot in the pilot, and Selleck recalls how daunting it seemed. "It was an eight-page scene, and I hadn't even met the cast yet. I thought I was the only person scared, because the others looked so good, but they all felt the same way. I also was sure that such a long scene would be cut," he says with a laugh. But those scenes, he believes, fulfill several purposes. They deepen the story for the characters, but they also give the large cast a way to connect every week. "Dinner scenes are long; they can be boring [to film] because you repeat the same dialogue and eat the same food—which gets pretty gamy—for eight hours," he admits. "But not only are the characters catching up with each other, but I'm catching up with my friends. Sometimes the director can't get our attention between takes because we're screwing around. We can get pretty silly by the end."
Selleck also appreciates how these scenes help get into the characters' heads, much as his iconic hit Magnum, P.I. did with the namesake detective's voiceover narration. "The audience knows that family members will have secrets based on what they'd been through earlier in the episode. Yes, it's very affirming, but it ain't The Waltons and it ain't corny."
RELATED: 20 Classic TV Guide Covers from the 1980s
The veteran actor is especially happy to buck what he sees as a TV trend "to portray fathers as idiots. Frank is far from perfect; he's under enormous pressure running a department of 35,000 cops, but he tries to be a good man and a good father. A family with a strong patriarch who is respected, not just put up with, is a rarity on television."
His on-screen progeny are quick to compare Selleck to Frank in both his authority and his guidance. "He's our leader in so many ways," says Estes. "If there's one reason the show's a success, it's Tom Selleck. He's done more to build this show than he'll ever get credit for."
RELATED: Tom Selleck's Six Most Memorable Roles (In His Own Words)
As for the national conversation about the police, Selleck says his job is to help "make people realize that they are human. We've done a lot of shows where cops are at fault or are corrupt, but these absolutists who insist that cops are always wrong—or are always right—have got to stop. So while we're entertaining people, I'm very happy that we offer a three-dimensional view of who police are."
Despite any complaints—he wishes CBS would promote the show more and admits his weekly commute from his Southern California ranch to the New York City set is "hard"—the 71-year-old actor has no plans to hang up his badge. "The quality of the work is only getting higher," he says, "and I'm not in the least bit tired of it, nor do I anticipate that happening anytime soon. Two more years and I will have done more Blue Bloods episodes than Magnum," he says with a lilt in his voice. "And that was considered a runaway hit. I don't know where I could have a better job right now."
Even with his weekly face-off with unpleasantly congealing food.
Blue Bloods, Fridays, 10/9c, CBS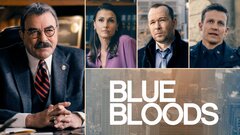 Powered by