7 Disney Channel Original Movies Worth Re-Watching During the May Marathon
There's nothing that can summon late '90s-early '00s nostalgia quite as fast as the sound of a mention of the words: "Disney Channel Original Movie" (AKA a DCOM).
So the House of Mouse's announcement that it will celebrating it's 100th DCOM, Adventures in Babysitting, which is set to be released later this year, with a non-stop marathon of DCOMs from Friday May 27th to Monday, May 30th, with regular airings continuing through June, is no doubt HUGE news. But while everyone has their favorites—and with a selection if 99, it's hard not to—there are some movies we're more excited for than others. So TV Insider has put together a list of the 7 DCOMS we're most excited to re-watch.
RELATED: Girl Meets World's Sabrina Carpenter Talks the Season 2 Finale
For the sake of this list, we've excluded obvious favorites like Halloweentown (a Halloween movie marathon staple), High School Musical (which just celebrated it's 10th anniversary) and Cadet Kelly (a Freeform film favorite) to focus on lesser known classics that helped cement the place DCOMs hold in the hearts of most children of the '90s (and early 2000s).
It's also important to note that movies like the Shia LaBeouf-starrer Tru Confessions, sister-swap tale Wish Upon A Star and genuinely touching The Color of Friendship were not included in this marathon and so cannot be included on this list.—With additional reporting by Emily Maas
Wendy Wu: Homecoming Warrior (2006)
An aspiring homecoming queen who discovers she's the latest in a long line of mystical, warriors? Wendy Wu (Suite Life of Zack and Cody's Brenda Song) might as well have been channeling her inner Buffy Summers as she eventually came to terms with the responsibility placed on her shoulders, and reconnected with her Chinese heritage—all while running for the position of homecoming queen! And yes, the training montage is a little cheesy, but honestly how does anyone learn to fight without one?
Wendy Wu: Homecoming Warrior airs Friday, May 27th at 12:55PM.
The Thirteenth Year (1999)
Ten years after Ariel captured our imaginations, another mermaid merman swam his way into our hearts. Cody Griffin (Chez Starbuck) lived the dream as instead of dealing with all the awkwardness of puberty, his thirteenth birthday granted him the gift of fins and a sparkly new tail—not to mention the ability to produce electricity and cling to walls! But The Thirteenth Year wasn't all newly-discovered merman powers—okay, maybe it was mostly about newly-discovered merman powers—it also touched upon dangers of obsession… at least in the case of fishermen pursuing a mythical creature. Fun fact: This movie also starred a very young Kristen Stewart!
The Thirteenth Year airs Saturday, May 28th at 4:20AM.
Eddie's Million Dollar Cook-Off (2003)
This underdog tale follows Eddie (Taylor Ball) a baseball player in a male-dominated household whose true love is cooking. When his home economics class and an upcoming cooking competition interfere with baseball, Eddie must choose between his hobby and his love—think High School Musical minus the singing, but with more sautéing! Bonus: iZombie's Rose McIver plays field hockey-playing pal Hannah, and Bobby Flay makes a cameo as himself in the end!
Eddie's Million Dollar Cook-Off airs Sunday, May 29th at 9:35AM.
Smart House (1999)
Sometimes, technology is not the answer! And that was certainly the case in this cautionary tale of what happens when Katey Sagal a smart house gets a little too smart for everyone's good—especially the family living in it! Of course before the mild horror begins, Ben Cooper (Ryan Merriman) and his friends manage to give us this iconic party preparation scene that had us all wishing we had "kickbutt video screens" to help practice our synchronised dance moves.
Smart House airs Monday, May 30th at 2:55PM.
Stuck in the Suburbs (2004)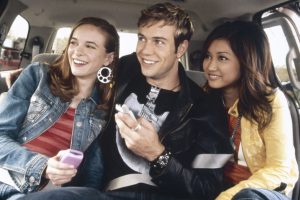 Taran Killam (yes, that Taran Killam) stars as moody pop star Jordan Cahill who is unhappy with the image his record company has designed for him. Cue Danielle Panabaker (The Flash) as Brittany and Brenda Song as Natasha, two adoring fans and bored, suburban middle schoolers that stop by to see a music video Jordan is filming nearby. When Jordan and Brittany accidentally swap phones, a journey to return the phone ensues. To see the younger versions of these stars is enough reason to watch Suburbs, but if you need even more, check out Jordan (Killam) singing "More Than Me."
Stuck in the Suburbs airs Monday, May 30th at 10:00AM
Zenon: Girl of the 21st Century (1999)
If you never got "Zoom" stuck in your head when you were younger, you're lying to yourself. Although the movie about the lovable Earth-orbiting teen Zenon (Kirsten Storms) didn't quite get life in the 21st century right… at least not yet (the film takes place in 2049), it made life in space look super fun, from hanging with That's So Raven's Raven Symone (who played Zenon's bestie Nebula) to seeing Proto Zoa in concert. Fun fact: the film was originally conceived as a potential TV pilot.
Zenon: Girl of the 21st Century airs Monday, May 30th at 1:05PM.
The Cheetah Girls (2003)
Produced by Whitney Houston herself, and starring Raven Symone, this Disney Channel Original Movie featured many catchy tunes which made for one impressive soundtrack. But singing and dancing aside, at the film's core was a story about friendship—and the many things that could tear it apart, including fame-induced egos and pride. That's why it was all the more important when the girls were able to put aside their differences and focus on the two things they all cared about: music and each other.
The Cheetah Girls airs Monday May 30th at 1:50AM.
But that's not all, starting Tuesday, May 31st, additional Disney Channel Original Movies will begin to air through the end of June.