'Girl Meets World' Finale: How Middle School Graduation Changed Maya
Middle school has finally come to an end on Girl Meets World. And with it, the Emmy-nominated show's second season.
The episode saw Riley (Rowan Blanchard), Maya (Sabrina Carpenter), Lucas (Peyton Meyer) and Farkle (Corey Fogelmanis) not only say goodbye to their current teachers—and Harley, Cory's (Ben Savage) high school bully-turned-John Quincy Adams' janitor—but also go over the important life lessons they've learned this season, including the secret of life ("People change people" and "What us does for them"). In the process, the soon-to-be high school freshmen figured out the legacy they wanted to leave behind (a remodelled bench) and their senior prank. But, as it turned out, the kids and their parents felt that they still had a lot more learning to do. So they did the not-so-obvious, by calling the current school superintendent, Mr. Turner (Anthony Tyler Quinn), to request that Cory be transferred to high school to teach them (which he does).
On a much less academic front, Maya, Riley and Lucas were unable to resolve their current love triangle, so they continued to let it be.
RELATED: Sabrina Carpenter Talks Maya's Feelings for High School (And Lucas)
With the final episode of the season capturing the change in Maya's relationship with Cory and with her mother, we spoke to Sabrina Carpenter on how she feels about Maya's growth and her relationships with the adults in her life.
It was nice to see Maya admit she still has a lot to learn from Cory. How was that for you to see that change in her?
It's honestly been so weird… I've been living in the moment and haven't been thinking about it. You asked this question, and I realized how much Maya has changed. She'd been this sad, strong, little spitfire that wouldn't let anybody tell her what to do. She definitely realizes that Cory Matthews is someone so, so special in her life. She owes a lot to him. She still has a lot to learn [and] he's always been there for her and will always be there for her. His whole family will.
They started the show not getting along. What do you think has changed in Maya and Cory's relationship between then and now?
They've each taken a little bit from each other. Cory has become a better teacher because of her. Maya is sometimes a hard student. Then Maya has become a better student because of Cory. He is such a good teacher. They give and take a little from each other.
Maya also got to say goodbye to her art teacher. How has it been for you to see that art means a lot to her?
That's the most special thing about Maya. Throughout all of this, she really has been through some things… she's never once doubted her abilities in that way. She's not super open about it, but she definitely finds those doors. She knows that is something that she could do for the rest of her life, she loves [it] and she's good at [it]. To have someone that believes in her is a very rare thing for Maya. She can only do so many things and have people believe in her because she is a bit of a troublemaker.
RELATED: Meet the Diaz Family From Disney Channel's Stuck in the Middle
This season has also been a big one for Maya and her mom. How would you say their relationship has changed?
It's only gotten stronger. Before, it was a big communication error. That does happen at this age between kids and their parents. They don't talk to them as much. They kind of push away sometimes. I think that's what Maya was doing, especially in her situation. She [doesn't] know what to do, so she's always turned to her friends instead. She finally has a mother who is really trying to make things right for her by getting a job and just being a little bit more involved. Her mom is just as confused as Maya is. She's just a big kid.
And how about Maya and Shawn (Rider Strong)? What does it mean for her to have this adult who is kind of invested in her life?
She's just fascinated by Shawn because he is such a close member to the Matthews, and she loves the Matthews. Also, he fascinates her in that they were so much alike as kids. He does care about her. I think they're definitely great for each other. I hope to see their relationship grow up even more in this new season.
Were you surprised that this season didn't resolve the triangle between her, Riley and Lucas?
No, I'm not surprised at all! Our producer had this planned from the beginning. He knows what he's doing. I trust him. I'm not surprised. He loves drama. What can I say?
Anything you can tease or tell me about Season 3?
Season 3? A lot of confused, complicated feelings from friendships that either fall apart or stay together.
Girl Meets World has been renewed for a third season.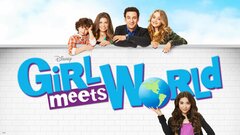 Powered by