Watch My Show: 'Bosch' Is 'The Next Binge Experience,' Says Henrik Bastin
In Season 2 of Bosch, now streaming on Amazon Prime Video, LAPD detective Harry Bosch (Titus Welliver) is back on the job probing the dark underbelly of his department. In the season premiere, the body of a person with mob ties is found in the trunk of a car; the case sends Bosch, who was suspended at the end of Season 1, down a number of dark alleys finding corruption at every turn.
Henrik Bastin, the show's executive producer, filled in our showrunner survey, making his case on why you should watch his show's second season, which has been streaming on Amazon since March 10. "We are on Amazon Prime and streaming is what TV needs to be in the future," he said.
I've got room in my life to watch just one more show. Tell me why it should be yours.
Because you've already seen season four of House of Cards and the next binge experience is BOSCH!
RELATED: Read More "Watch My Show" Columns
Who should be watching?
If you are a fan of classic, well done character-driven crime shows, watch it. If you like The Wire, watch it. If you like The Killing, watch it. If you liked The Shield, watch it!
What happens if we don't watch your show?
Harry Bosch will come to your house and make you do it.
What's the best thing anyone has said or written about your show?
There has been so much love and positive feedback it's hard to single out, but for me personally, it has to be that Michael Connelly thanked me for doing this together. That he is so happy with it!
What's the worst thing?
One reviewer said they liked the show but thought one problem was the European producers' modest tone, which was more admirable than addictive. Well, I will wear "admirable" as a badge of honor.
Who was right?
I was. Of course.
RELATED: Roush Review: Bosch Is a Less Dirty Harry in Season 2
What's an alternate title for your show?
To Live and Die in L.A.
Give us an equation for your show.
The Long Goodbye meets The Wire, but with much better weather.
Come up with a premise for the spin-off.
Harry takes on Detroit. Beverly Hills Cop in reverse!
What credit of yours would you prefer we forget?
I don't want you to forget any of them. You learn from your mistakes!
Tell me one thing about your cast.
They are the nicest people you would ever meet.
What other series would you most like to be an executive producer on?
The Wire!!!
Let's scare the network. Tell us an idea that didn't make it on to the screen.
Amazon don't scare easy… But making Harry Bosch retire would probably not be the best idea?
Finish this sentence: "If you like _______, you'll love our show."
Kittens. Everybody likes kittens, right?
Pick another show, any show, to start a fake feud with.
The Wire, just so I could talk to David Simon.  I need to know how Omar survived the fall from the balcony in Season 5.
What other show would you like to do a cross-over episode with — and how would that go?
Well, Making a Murderer would be good. Harry would get to the bottom of what really happened and solve that once and for all.
How will your show change the face of TV as we know it?
To an extent, it already has. We are on Amazon Prime and streaming is what TV needs to be in the future.
Bosch, Season 2, Now Streaming on Amazon Prime.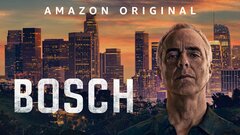 Bosch
where to stream
Powered by