Too Hot! John Kasich Tells Seth Meyers Why He Eats Pizza With a Fork (VIDEO)
As plenty of folks wonder why Ohio Gov. John Kasich doesn't just stick a fork in his presidential bid already, he explained to Late Night host Seth Meyers why he does stick one in his pizza.
Meyers greeted the Republican candidate with a photo of Kasich feasting at New York City institution Mike's Deli and ticked off a list of what he ordered. On the menu for the Kasich contingent:
• Two plates of spaghetti
• The "Yankee Stadium Big Boy Sandwich," featuring a delicious variety of meats and cheeses and a dash of greenery.
• The "J.K. Special" — that would be short for "John Kasich Special," a creation of his own design
• Pasta "Fazool" — that would be the classic Italian comfort dish pasta e fagioli for you purists.
Also, there was pizza. And a problem. One that social media jumped on like a waiter too eager for a tip. Let Kasich explain: "It was so hot and I made a terrible mistake—I picked up a fork."
Meyers wasn't having the excuse. "C'mon, man!" he chided. "You wait a second! … You eat your pasta!"
Kasich expounded: "When I was in college, I had 15 roommates. You think we waited for the pizza to cool?! I mean, there'd be no pizza left!"
Could be that. Or maybe he didn't want to get pizza on his fingers. Or he was just trying to class up the joint a little. It happens:
Late Night With Seth Meyers, Weekdaysn, 12:35/11:35c, NBC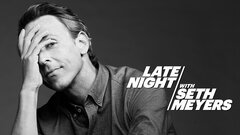 Powered by