'Bones' Boss Talks Hodgins' Secret, Mixing Things Up in Season 11
Bones kicked off its midseason premiere in an unusual way—without the normal (often grotesque) body discovery that kicks off the case of the week.
Instead, "The Death In The Defense" focused on the aftermath of Hodgins paralysis a few months after we last saw the characters: Hodgins (TJ Thyne) finally being released from the hospital, while Booth (David Boreanaz) and Brennan (Emily Deschanel) debated how much he could truly recover.
The decision to shake up the first act back was a deliberate one. "I think it's Season 11, we're allowed to have fun!" executive producer Michael Peterson laughs. "Let's do something a little different. We're going to keep doing that…that's what we want to do. We don't want to get lazy in Season 11, we want to challenge ourselves in different ways. That's always what we're looking for: figure out a way to do it a little different, and challenge ourselves. In 11, we open it up a little different. You're going to see stuff in 18 we've never done. Episode 14, there are some filmmaking techniques we've never done before."
RELATED: Bones Boss Teases Hodgins' Arc and Upcoming Likely Final Serial Killer
"We want to keep the audience on their toes, and I think we have some great things planned, as far as that," he continues. "We're trying to mix it up in ways you only get to do when you're a Season 11 show."
On-screen, things are a little more complicated in the Bones world: Hodgins managed to convince Cam (Tamara Taylor) to let him come back to work…but he lied to his wife, Angela (Michaela Conlin), about the negative prognosis he received from the doctor about his damaged nerves.
"You're going to see direct ramifications [of that lie] at the very opening of Episode 12," Peterson teases. "The secret is going to come to light. And it's going to make Hodgins confront the reality of his situation. To be blunt, he does not like the reality; this is not what he wants to be facing. This really is a huge challenge for both of them, and the team as a whole."
And though Hodgins' decision to spin his health news will make the team question how ready he really is to be back at work, "the lying is just the tip of the iceberg," Peterson says. "If that was the only thing they had to worry about, they would focus on that. But it's just the most mild symptom of what he's about to go through."
With both Cam and Aubrey (John Boyd) expressing guilt for Hodgins' current physical state in the midseason premiere, that thread won't be totally dropped—but it also won't overwhelm the story. "We'll be seeing a little bit of it, but at the end of the day, their guilt is assuaged to a degree," Peterson says. "At the end of the day, yes, Hodgins is in this horrible place, but Aubrey saved his life. At the end of the day, it is Hodgins' decision [to work], and as much as it can weigh on Cam a little bit, she knows he is an adult, this isn't her taking care of a child. He does have to accept his personal responsibilities here; I think it weighs more on him than the other two characters."
RELATED: Booth and Brennan Debate Hodgins' Recovery Potential in Bones' Return (VIDEO)
As Hodgins struggles with his new reality, Angela will have a shoulder to lean on in her best friend, Brennan. "[Brennan's concern is] going to be playing very much in the forefront," Peterson says. "Angela is Brennan's best friend. She's going to be right in the trenches with her for this entire thing. This will be a true test for Brennan and everyone in the lab. This will cross over; it's not going to be contained to Hodgins and Angela."
With half of the season still to go in Bones' eleventh year, Booth and Brennan will endure some of their own angst in coming episodes. "This one, we focused where we needed to given where the last episode ended," Peterson acknowledges. "Episode 13, when you talk about guilt, the way Aubrey and Cam have to deal with what happened to Hodgins, this new case that's going to be opening up will be bringing back some feelings of guilt [from Booth and Brennan] over what happened at the end of last season about retiring, over quitting for six months. That's going to be one of the big tests that's going to come out, because of what happens in this case in 13."
"Brennan's going to definitely feel some guilt over not having been in the lab this entire time, and having put herself before the cases, before the lab," he continues. "That's going to start in 13 and play out through the rest of the season."
Bones, Thursdays, 8/7c, Fox.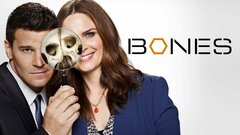 Bones
where to stream
Powered by