'NCIS: New Orleans' Scott Bakula & EPs Preview a Journey Into Pride's Mind
Bang! In December's midseason finale of NCIS: New Orleans, head honcho Dwayne Pride (Scott Bakula) shot and killed a murderous cult leader — maybe in cold blood.
A proverbial nasty piece of work, the man was kneeling, hands up, gun tucked into his waistband. He had also recently taken the life of beloved NCIS agent Christopher Lasalle (Lucas Black) and was hinting Pride's daughter and his girlfriend could be next. But this death occurred off-camera, with no witnesses.
See Also
After quite the ordeal in the fall finale, Pride's nightmare returned in a big way.
"He could have been reaching for his weapon," Bakula asserts, parroting his character's explanation to his colleagues.
Why Pride pulled the trigger — and the bigger question of why he goes to such great lengths to protect the people he loves — will be answered over the next four episodes. When the drama returns on its new night, Sunday, the Big Easy lawman dives deep into his own history and subconscious to explore those unsettling hallucinations about a man in a red suit, which began after kidnappers drugged him with LSD last season.
Flashbacks tell the surprising backstory: "That experience triggered this deep-seated trauma from his past. These are childhood memories having to do with his mother [Mena] and father [Cassius, now deceased]," hints exec producer Jan Nash.
"What Pride is dealing with is psychological, which almost makes it scarier," chimes in fellow executive producer Christopher Silber. "If there's a bad guy after him, he knows how to take that. But this is coming from the inside." And it's coming when he really needs to be on his game.
See Also
From Michael Nouri to Marisol Nichols, these actors have taken on different roles in 'New Orleans,' 'Los Angeles,' and the original series.
In the drama's February 16 return, NCIS agent Sebastian Lund (Rob Kerkovich) infiltrates a group of plotting white supremacists — a big step forward in fieldwork for the forensics nerd! — with support from polyglot Hannah Khoury (Necar Zadegan) and tough talker Tammy Gregorio (Vanessa Ferlito). Even then, Pride grabs a spare moment to start teasing out the identity of "Red," enlisting computer ace Patton Plame (Daryl "Chill" Mitchell) to create a composite sketch.
At first Pride's road to self-discovery goes nowhere, but over time, the clues he finds make him nervous about what else he might uncover. When a female assassin comes to town, Plame, who becomes what Bakula calls "a little bit of a dog with a bone" in terms of Pride's recovery, offers some insight during a long stakeout. "Patton reminds him he's not someone who runs away from things that are scary," Nash says.
The boss man has more reasons to push on. "Pride's stress and lack of sleep and focus catch up to him — and not in a good way," Bakula says. "He realizes the distraction is putting other people at risk."
Pride eventually returns to Dr. Beth Tanaka (Angel Desai) — first recommended by his confidante, coroner Dr. Loretta Wade (CCH Pounder) — who prescribes a cutting-edge treatment known as psychedelic-assisted therapy. "We decided to do something very topical right now, which is to treat trauma with a microdose of LSD. We go back to the thing that caused [the visions] and use it to unlock the mystery," Nash says.
See Also
From personal relationships to characters' mental states, we want these mysteries solved on 'NCIS,' 'NCIS: LA,' and 'NCIS: New Orleans.'
It all comes to a head in the trippy March 8 episode, when Pride goes on a journey into his mind to figure out what the man in the red suit is trying to tell him. "It's a wild ride. The story called for specific visuals and sound design but also a unique emotional touch," says episode writer and executive producer Chad Gomez Creasey.
NCIS: New Orleans, Sunday, Feb. 16, 10/9c, CBS
This is an abbreviated version of TV Guide Magazine's latest cover story. For more, pick up the issue, on newsstands Thursday, January 30.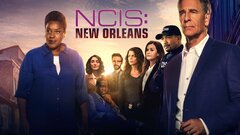 Powered by