12 Questions We Have for the 'NCIS' Shows in 2020 (PHOTOS)
The cases of the week aren't the only things that need solving over on the NCIS shows. All three left us with questions about our favorite crime-solvers we're hoping get answered in the 2020 episodes.
NCIS ended its fall 2019 run with Ziva's (Cote de Pablo) latest return, which provided answers about how much Tony (Michael Weatherly) knows. However, the events of the hour are sure to effect Gibbs (Mark Harmon) greatly moving forward, and there are still loose ends from previous episodes to consider.
See Also
From Michael Nouri to Marisol Nichols, these actors have taken on different roles in 'New Orleans,' 'Los Angeles,' and the original series.
The fall finale for NCIS: Los Angeles was much more character-based than its episodes usually are, but it did leave us wondering about the futures of the team, its members, and its fearless leader.
And NCIS: New Orleans saw Pride (Scott Bakula) get the man who'd killed Lasalle (Lucas Black), but his recurring nightmare returned, leaving us to wonder what it means for him going forward.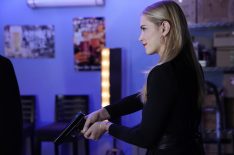 See Also
Odette has a plan for Bishop in Season 17.
Click through the gallery to see what we need to see addressed in the next set of episodes of each of our favorite NCIS shows.
NCIS: Los Angeles, Sunday, January 5, 9/8c, CBS
NCIS, Tuesday, January 7, 8/7c, CBS
NCIS: New Orleans, Sunday, February 16, 10/9c, CBS