Conan O'Brien: Korean Soap Opera Star?!?
엄마야! (That's the equivalent of OMG in Korean.)
Conan O'Brien recently traveled to South Korea in response to a fan who sent the talk show host a plea-filled invitation to visit her country and sweetened the deal with a box filled with tasty (and unusual) Korean snacks.
RELATED: TBS Orders People of Earth, a New Comedy from Conan O'Brien and Greg Daniels
When the talk show host arrived at Incheon International Airport in Seoul, he was greeted like a rock star, despite the fact that his TBS show doesn't even air on Korean television. Thanks to the Internet, and the Korean culture's obsession with social media, the giant ginger has legions of Korean fans.
As part of his cultural immersion, Conan appeared on the wildly popular Korean soap opera, whose title translates to One More Happy Ending. Yes, this is the title of a TV show. The main character is a gorgeous matchmaker named Carp, played by international superstar, Jang Na-Ra. Yup, Carp.
Conan's episodes revolve around his mission to find the woman of his dreams. And in true dramatic fashion, Conan only has eyes for Carp. And he also plays a fish in his arc, so how's that for poetic justice?
All 16 episodes of the K-drama series have already aired in Korea, but will become available in the U.S. on Korean-streaming service DramaFever on April 15 (Conan appears in episodes 9 &10). For more about Conan's Korean Adventure, check out the Conan website where Conan learns the language, tries Tae Kwon Do, and makes a hilarious K-pop video with The Walking Dead's Steven Yeun for artics J.Y. Park's song "Fire." Can you say Nol-de-up-nee (놀데없니) which translates to "Where's the party?"
RELATED: David Spade Reveals He Turned Down the Late Night Job that Went to Conan O'Brien
What do you think of Conan's acting skills? He certainly gives the smolder, but I think he needs a little work on his pronunciation; we don't want Coco announcing, "I am a jelly donut!" At least O'Brien knows that if his late-night TBS gig ever falls through, he's got leading man or pop star potential … in Korea.
Conan, Weeknights, 11/10c, TBS.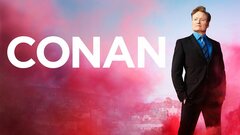 Conan
where to stream
Powered by