5 Things to Expect From 'Inside Amy Schumer's Fourth Season
Not even a jury of middle-aged men could keep her from us. In honor of the long-awaited return of Inside Amy Schumer, executive producer Daniel Powell shares what's on tap for the Emmy-winning sketch comedy's fourth season. Spoiler alert: Amy's going inside. Literally.
1. More celebrities stop by. Following in the footsteps of Julia Louis-Dreyfus, Paul Giamatti and Tina Fey last season, Julianne Moore, Liam Neeson, Lena Dunham and the Gyllenhaal sibs all make appearances. "Jake Gyllenhaal really brought his Academy Award–nominated A game to a role that is essentially preposterous," Powell teases.
2. Expect scathing treatises on fame and firearms. Schumer, who found herself both an Emmy winner and fashion magazine cover girl this year, was keen to tackle the nature of stardom. More solemnly, she'll also address gun violence, following the deadly 2015 shooting at a Louisiana showing of her film Trainwreck.
RELATED: Amy Schumer Talks to Jimmy Fallon About 'Plus-Sized' Controversy
3. The "man on the street" segments are out. Vignettes of Schumer interrogating New Yorkers on the subject matter of her sketches have been jettisoned in favor of talks between Schumer and her fellow comedians at a local bar. The reason: It was just too cold! "We have always had the misfortune of shooting in winter," Powell explains. "And it's a bummer to air something in the summer with people bundled up in massive parkas. Amy will still discuss [these issues], just with those she already has a rapport with. And indoors!"
RELATED: Amy Schumer Says She'll Take a Lie-Detector Test to Prove She's Not a Joke Thief
4. Schumer's one-on-one interviews are still on tap. Among the people she sits down with: a nun, a woman with Down syndrome—and a sociopath. "We had to conceal her identity by blurring out her face," Powell says.
5. Limits are set? Schumer and Co. opted not to film a Hunger Games–inspired sketch in which Schumer owns a box of the last remaining lady pubic hairs "for a number of reasons," Powell explains with a laugh. Hey, there's always Season 5!
Inside Amy Schumer, Season Premiere, Thursday, April 21, 10/9c, Comedy Central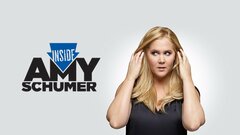 Powered by