How the 'Vikings' 'Braids Mistress' Keeps the Show's Warriors Looking Fierce
The striking hairstyles of Viking leaders Ragnar (Travis Fimmel), his ex-wife, Lagertha (Katheryn Winnick), and their armies of male and female warriors set them apart from their more traditionally groomed European enemies and allies—and intimidate opponents on the battlefield. Vikings' hair department head, Dee Corcoran—aka "braids mistress"—explains how she creates the complex plaits that make the 9th-century Nordic raiders look so fierce. (History's epic historical drama aired its midseason finale Thursday, April 21.)
What did you learn about the hairstyles of Vikings from doing historical research?
Very little! There were no references except the stereotype of long hair, so our Season 1 director, Johan Renck, said, "Be fearless."
RELATED: Vikings: Floki's Vision of a Broken Queen Aslaug (VIDEO)
You went for it! Why braids?
If you just pull hair back, it can look too modern. It needed an edge. The texture is visually appealing. We braid in wool, feathers, leather for the battlefield and gold or colored threads for a banquet. We customize for character, storyline and what suits the actor.
How did you design Lagertha's popular battlefield braids?
Katheryn suggested adding some height. We did that and then the rest gathers to the side. She has a great head of hair, so we don't use extensions. It takes about 45 minutes. She gets black liner around her eyes, and the end look is quite dangerous.
Do braids ever unravel during a fight scene?
They don't budge. We sew everything in place with catgut or strong thread, using big plastic needles. You don't have to worry about pins sticking into an actor's head when they're in battle. Katheryn doesn't even use hair spray.
RELATED: Vikings Casts Jonathan Rhys Meyers for Season 5
What is your biggest braid challenge?
On the men, we braid quite short hair. We also add extensions to the boys that stay in for the season. At first they love it. After two weeks, it's, "All this maintenance!" Travis used to say, "I've never had to wear a shower cap in my life!"
You trained as a hairdresser and did a prestige cutting course with Vidal Sassoon in London. How did you break into TV?
When I was 18, I started working with Morgan O'Sullivan [Vikings' executive producer] on films. Eventually I worked with [Vikings creator] Michael Hirst on [his previous drama] The Tudors.
Vikings, Season 4, Resumes Later in 2016, History.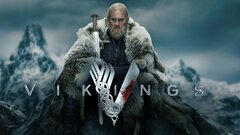 Vikings
where to stream
Powered by