Ex-Obama advisor: 'Veep' has TV's most accurate depiction of Washington Ex-Obama advisor: Veep has TV's most accurate depiction of Washington
Dan Pfeiffer, who left the White House in March as Senior Advisor for Strategy and Communications after serving President Obama since the start of his administration, says the HBO comedy is even superior to The West Wing: "Veep is the most authentic because it understands the three most important things about life in Washington: the humanity, the banality, and the absurdity. On its face it's just another workplace comedy — the White House as Dunder Mifflin — but it dissects D.C. with a finely honed satirical scalpel. The characters stand out for their raw humanity. Painfully ambitious staffers like Dan and Jonah, the shallow members of Congress being courted to vote for (and against) the Families First bill, and the cynical and starstruck reporters questioning Press Secretary Mike McLintock all ring true to anyone who has spent time in Washington." PLUS: Veep creator Armando Iannucci says: "I decided to fire me from the show."
Texans are up in arms over the inaccuracies in Texas Rising
The History channel miniseries, which ends Monday, has taken so many liberties that Texans have voiced their displeasure on social media. "Us Texans are pretty proud and we like our history done right," says a member of the Sons of the Republic of Texas.
Kaitlyn Bristowe may have spoiled The Bachelorette — via Snapchat
Bristowe posted a Snapchat photo on Friday night of her in bed with one of her suitors.
In defense of TV's "rape glut"
"Whether we like it or not," says Mary McNamara, "brutal and precisely detailed violence is being used to explore the human condition. Demanding an exemption for rape turns rape into something other than a violent crime and undermines all the work activists have done for years." She adds: "Certainly there are instances in which rape is handled badly or used to push ratings, just as there are examples of violence against children being handled badly or to push ratings. But there are also plenty of examples of rape being used to explore the precarious role of women in certain societies and/or their ability to overcome hardship."
Yahoo gives Katie Couric a raise: She'll earn as much as Brian Williams
A new deal will have Couric earning as much as $10 million a year to stay on as global news anchor of Yahoo.
Are critics of Game of Thrones' sex and violence missing the point?
"There is a fine line," says Eric Deggans, "between criticizing a show because it is gratuitously violent – especially regarding rape and sexual violence – and rejecting a show because it presents something you don't want to see. Sometimes, I fear, a show dedicated to the explicit exploration of brutality in a ruthless world absolutely must show you things you'd rather not see." PLUS: The problem this season is that female characters became impotent, the book debate is distracting from the TV show, has GoT made Arya incompetent this season?, this has been GoT's most-watched season despite all the controversy, why giving up on Game of Thrones is so freeing, an open letter to the White Walker army, how GoT's sound editor brought the White Walkers to life, inside the music of Season 5, and inside the creation of the dragon attack.
Melissa Gilbert: "A dearth of acting opportunities" is one reason I owe the IRS $360,000
The former Little House on the Prairie star explains why she owes so much in back taxes: "Like so many people across the nation, the recession hit me hard. That, plus a divorce and a dearth of acting opportunities the last few years, created a perfect storm of financial difficulty for me."
Judge tosses New Girl theft allegations
A federal judge rejected a claim by two writers that the Fox comedy was lifted from their proposal about a woman who moves in with three men.
Shorter TV seasons are all the rage — 10 episodes is the new 13
HBO is thought to have started the 10-episode season trend with Game of Thrones and Veep, which end their seasons Sunday. Meanwhile, two of last season's biggest broadcast hits, How to Get Away with Murder and Empire, had shorter seasons — 15 and 12 episodes, respectively.
Letterman on being retired: "I can no longer operate a telephone. I don't know what to do with my hair, either"
Three weeks after his Late Show exit, David Letterman has given a status update on his retirement to Indianapolis Magazine, revealing that he's kept his two Late Show assistants and that he's happily not wearing makeup anymore. Letterman also said his 94-year-old mom recently suffered a stroke, but she's doing fine.
Ex-Powerpuff Girl Elizabeth Daly: Why being replaced is so disappointing
The former voice of Buttercup compares being replaced to losing your longtime mom.
Oxygen orders a dating show for millennials: Swipe for Love
Potential couples will be matched before an audience based on their swipes.
Jeff Ross Roasts Criminals wasn't expected to have so much heart
The Comedy Central special, airing Saturday and taped at an actual prison, brings up a lot of taboo subjects, including sex in prison.
See pics of Cuba Gooding Jr. as O.J. Simpson waiving a gun from the Ford Bronco
American Crime Story this week filmed O.J.'s infamous slow-speed chase.
Hannibal's music might be it most frightening component
Composer Brian Reitzell explains the three steps he goes through in making TV's scariest soundtrack. PLUS: What does Hannibal call the dear man?
Current and former SNL writers describe their toughest sketches
Writer-turned-cast member-turned-writer Mike O'Brien recalls having to talk Michael Keaton into filming a sketch that would keep him up all night.
Phineas and Ferb is finished, but the Disney cartoon could someday return
"Never say never," says co-creator Jeff "Swampy" Marsh. His fellow co-creator Dan Povenmire adds: "They're still making Scooby Doo episodes and we're sort of the Scooby Doo of a generation so I could imagine ten years from now someone dusts this off and, without or without us involved, they make more." PLUS: An appreciation of Phineas and Ferb.
Steve Martin's AFI Life Achievement Award airs Saturday on TBS
The star-studded ceremony, taped last week at the Academy Awards theater, comes across more like a roast of the comedy icon.
BBC America's Jonathan Strange & Mr. Norrell is suited for everybody
The historical fiction BBC miniseries, premiering Saturday, will be relatable if you haven't read the book.
Syfy's Dark Matter is a middling space opera
There's nothing special with Syfy's new space series. PLUS: It's the Calvin Klein ad version of Lost in Space.
Don Draper's Mad Men house from the pilot is up for sale
The New Rochelle, New York home can be yours for $1.1 million.
Orange Is the New Black has never felt freer thanks to Piper's demotion
"The one-time heroine's demotion to being just another zany part-time player doesn't come across like a jarring change," says Spencer Kornhaber, "because Orange Is the New Black's appeal has always been its ensemble. The cast is as diverse in personality and sense of humor as it is in body types and skin colors, and Jenji Kohan's team of writers work at micro scales to create a massive story. I'd forgotten how insanely packed each episode is—how the alphabet isn't long enough to start labeling A-plots and B-plots and so on, and how each scene is as densely filled with quotable lines and big ideas as Litchfield is with people." PLUS: OITNB has become sharper and more generous in Season 3, there's a feeling that OITNB has run out of ideas, OITNB is funnier and sadder than it's ever been, Season 3 again subverts expectations, in defense of Larry, meet new inmate Ruby Rose, and OITNB provides Latina characters you never see on TV.
True Detective Season 2 will make you appreciate Matthew McConaughey and Woody Harrelson even more
"The failure here is more complicated than Harrelson and McConaughey having set the bar so high," says David Zurawik. "For all the keen insights and fine writing (creator Nic) Pizzolatto delivered last year, this season he seems content with borderline stereotypical depictions of emotionally maimed, out-of-control, angry cops that have unfortunately become a staple of TV drama. Instead of creating original characters, he simply deepens the darkness of the stereotypes to the point where I became numb to their pain." PLUS: Season 2 is fascinating in a different way from Season 1, Season 2 will make you want to see more, there's plenty of good but Vince Vaughn is among the not-so-good, there's no flow or realism to the characters, and the superficial excesses will make you wonder if Season 2 is some kind of spoof.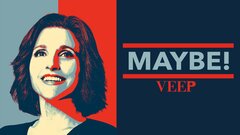 Veep
where to stream
Powered by