'Unbreakable Kimmy Schmidt's Irreverent Second Season
In a tiny room no bigger than the Mole Women of Indiana's bunker, the cast of Unbreakable Kimmy Schmidt crowds around an L-shaped collection of tables, hovering over binders as they perform a table read of an upcoming episode for Season 2. Sitting in rows of folding chairs that fill the rest of the cramped space in this otherwise cavernous Brooklyn soundstage are various department heads and show staffers who serve as both a live studio audience and a litmus test.
RELATED: Unbreakable Kimmy Schmidt Season 2 Trailer
"We're a big family that way, and it's so great for the writers to have an audience for the table read, because it's the only way to really measure if things are funny," says cocreator and executive producer Tina Fey. "It's good because we get to see how everything flows and if people laugh."
Trust us, it flowed and they laughed. The episode—which finds the preternaturally optimistic Kimmy (Ellie Kemper) reluctantly appearing on a Dr. Phil–type show to deal with some of her post-abduction hang-ups—bubbles with the same loony, rapid-paced, pop-culture-laced humor that made the series, originally developed for NBC, such a streaming success for Netflix last year.
But now the Schmidt is getting real for the sunniest cult escapee ever and all her pals—including flamboyantly flawless roomie Titus Andromedon (Emmy nominee Tituss Burgess); their spacey landlord, Lillian (Carol Kane); and Kimmy's avaricious, now-divorced Manhattan socialite boss, Jacqueline (Jane Krakowski, who also received an Emmy nod). "This season, we will see that Kimmy can't just forget about being held underground for 15 years and pretend like nothing happened," previews Kemper in her dressing room following the table read. "You have to deal with those things. She's been learning to allow herself to feel emotions."
And she's not the only one. After the wife (yes, wife) Titus ditched at their reception tracks him down, the openly gay struggling actor is forced to work through some issues of his own via an opposites-attract romance with Mikey (Mike Carlsen), the construction worker he flirted with last season.
RELATED: Tina Fey Talks What's Coming for Kimmy Schmidt Season 2 (Hint: Velcro)
"Titus is a lot more vulnerable now, whether he wants to be or not, and it's really fascinating to watch him have to consider someone else's feelings," says surprisingly shy scene stealer Burgess, whose Season 1 disco ditty to black men's junk, "Peeno Noir," became a viral sensation and spawned the actor's real-life wine brand. "Titus is used to one-night stands, so when [Mikey] sticks around, it is both jarring and delightful. It's very sweet how Titus comes out of this little calcified state and actually thaws out."
With all of this self-discovery, one might think that the show's subversive irreverence would take a hit. Yet even as Kimmy seeks meaning (with some unreliable assistance from a mess of a therapist, played by Fey), the storylines are still smart as hell and soaked in the politically incorrect, take-no-prisoners brand of comedy Fey and fellow executive producer Robert Carlock perfected on 30 Rock. In one arc, Titus, bored with the theater's preponderance of gay coming-out tales, produces and stars in a one-man show, "Kimono You Didn't," about his past life as a geisha. Also on tap: the virginal Kimmy says goodbye to her…you know.
"I think we're talking about the same thing," laughs Kemper when the subject of her character's loss of innocence is brought up. "I'd heard murmurs, and I was like, 'Nooooo!' because there was something so pure and fresh about her," she says. "But what ends up happening is very sweet and as Kimmy as it could be." We bet the Peeno Noir went straight to her head!
Unbreakable Kimmy Schmidt, Season 2, Debuts April 15, Netflix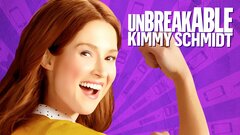 Powered by