Tina Fey Talks What's Coming for 'Kimmy Schmidt' Season 2 (Hint: Velcro)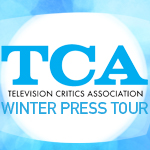 Mole women, rejoice! Unbreakable Kimmy Schmidt finally has a return date for Season 2 and it's going to make one of the year's most tax-ing days a lot sunnier. Netflix announced today during their portion of the Television Critics Association winter press tour in Pasadena that the Emmy-nominated comedy had just been pickled up for a third season and that Season 2 would bow on Friday, April 15 with all 13 episodes available at once...a phenomenon creator Tina Fey is still not used to.
"That is a new thing for us," she admits of coming back almost a year after the show's premiere. "For broadcast, we would have started up the second season at the same time we did, but then we'd have been airing the episodes one at a time back in the fall." Instead, production has been completed "but nothing will air until the spring."
When asked what she and co-creator Robert Carlock learned from their first venture into streaming TV, the mother of two girls was happy to find that the misadventures of a doomsday cult-escapee (Ellie Kemper) and her flamboyant new bestie (Tituss Burgess) connected with a younger demo. "After the season aired, so many people who came up to me, Robert and Ellie said they liked the show because they could watch it with their  12 or 13-year-old daughters," she says, crediting Kimmy's primary color palette and the character's child-like world view. "It really appealed to girls of a certain age." To that end, Fey assures us that the "we are making a conscious effort in Season 2, in spite of our [wider] limitations and not being on broadcast TV, that this show is still OK for them to watch...we're not shying away from things idea-wise, but you're not going to see naked bodies or hear a ton of cursing."
That is not to say the Miss Schmidt won't be dealing with some darker issues. After all, she was held hostage underground for 15 years. "Coming out of Season 1, where she's supposed had some closure—the reverend has gone to jail, she has a new life and this new friend—Season 2 is about how things are not quite that simple and that things that you repress inside yourself will come out sideways if you don't truly deal with them," Fey previews, adding that Kimmy will even seek professional help for some of her post-traumatic troubles. "The hope this year is that we will find out why she is afraid of velcro."
RELATED: More News Scoop From the Television Critics Association