'Lincoln Rhyme' Cast & EPs Preview the 'Hunt for the Bone Collector'
The hunt for the Bone Collector is coming to TV this winter on NBC.
Fans of Jeffery Deaver's book and the subsequent movie know the story, but with serialized television, Lincoln Rhyme: Hunt for the Bone Collector will be something new. This time, writers will be able to stretch out the tale and delve deeper into some aspects of the story and its characters.
"The characters were really richly created," executive producer Peter Traugott tells TV Insider. "One of the impetuses for doing this as a TV show is you've got these fantastic characters and great dynamics amongst the characters, why not try to explore those relationships while investigating other kinds of stories?
"Along those lines, the writers have come up with additional character traits that allow the show to hopefully go beyond what a two-hour movie might be able to explore and help us when we're telling close-ended stories."
Read on for a preview of what's to come in the NBC drama from the cast and executive producers.
See Also
Plus, find out when news shows 'Zoey's Extraordinary Playlist,' the 'Bone Collector' series, and others will premiere.
The Hunt for the Bone Collector
Three years after the Bone Collector terrorized New York City, it appears he's returned, bringing former NYPD detective and forensic genius Lincoln Rhyme (Russell Hornsby) out of retirement. One of the killer's traps left him paralyzed, making this very, very personal for him.
"We're really slowing that down. We're going to spend a lot of time understanding the backstory to the Bone Collector, how he became who he became, and the nature of his relationship with Lincoln and why he has this vendetta against Lincoln," Traugott says.
"We made him way more instrumental to Lincoln's original injury and the case was more personal always from the beginning," executive producer Mark Bianculli adds.
But Lincoln and his new partner, Amelia (Arielle Kebbel), will also have to tackle cases of the week, with each episode featuring "some version of a close-ended case," Traugott shares. "We could do an episode entirely about the Bone Collector in the present, that could be our close-ended story. But for the most part, we'll have a unique case riding alongside their hunt for the Bone Collector."
And that will prove to be quite the challenge for Lincoln and Amelia, who would much rather focus entirely on the Bone Collector, which was why they had to come up with cases that necessitated their attention shift. "We have to have urgent cases or also cases that were so baffling and puzzling that they required the expertise of somebody like him," Bianculli explains. Plus, the Bone Collector will go dormant as part of the cat-and-mouse game.
There's good news for those hoping for some sort of resolution by the season finale. "There will be a satisfying payoff to the Bone Collector story at the end of the first season, for sure," Traugott promises. "We already know where it lands, but there will be room for the Bone Collector, if we so choose, to come back in subsequent seasons."
See Also
The gang got back together for a night.
Get to Know the Cops on the Case
This case reconnects Lincoln with his former partner, Detective Michael Sellitto (Michael Imperioli). Sellitto is "old school, so he's by the book, but he's willing to go rogue," Imperioli says. "He lives with a lot of guilt about what happened to Lincoln because they were partners and you always second guess yourself, 'What if? If I would've done something different that day, if I would've been with him that day or if he'd listened to me because I told him not to go in when it did happen.'"
"They stepped on each other's toes" when "they were reluctant partners," Hornsby adds, in part due to their different approaches to solving crimes. While Sellitto used his instincts, Lincoln was "very cerebral." In fact, Traugott called their relationship "contentious," but added that their relationship will "become even stronger" now that they've been brought back together.
And it's that "cerebral" part of Lincoln as an investigator that especially comes into play now. "He always thought outside the box because he did so much more research than everybody else. He really looked very deep into the minutiae of each case," Hornsby explains. " He takes every element, every aspect of the city into consideration when solving a case." And he can use what is "essentially" a photographic memory to continue to do that after his injury, something he especially needs.
"[Solving these cases is] what keeps him alive," the actor continues. "He's definitely a cynic and a curmudgeon. What gets him up every morning is the case. If it weren't for the case, he wouldn't really want people around."
But he does have to deal with people being around, including Amelia, whom he doesn't see as his partner at first. "She represents his lack of physicality out in the field, but they will obviously become much more symbiotic," Traugott explains.
"Exploring the nature of [Lincoln and Amelia's] relationship and slow-playing it a little bit and the idea that they're both broken people, for different reasons and they're both suffering from that and those are both weaknesses they might not be ready to acknowledge and how they will help each other bring the best out in each other is going to be really great," the EP says.
See Also
Plus, find out which shows are safe and which fates remain uncertain at the Peacock Network.
"We wanted [Lincoln] to have flaws that predated any of this and he has to fix on his own with Amelia's help," Bianculli adds. "We just thought it was a cool idea that you could have problems you didn't even think you had and you need someone's help to overcome them."
There's also obviously more to the character of Amelia than serving as Lincoln's eyes and ears or fresh eyes on the case. "She's very intuitive, she has killer instincts," Kebbel shares. "She also has this really traumatic past that makes her the fighter she is today, but also makes her a bit dangerous at times. It's really a question of, how far will she go and does it make her a brilliant cop or an unsafe cop?"
Adapting the series for television allowed them to do more with the character of Amelia. "She has more of a Batman-esque origin story where she lost her parents literally in front of her," Bianculli previews. "She has this burden of taking on her baby sister who was literally a baby [at the time]. They need each other, but that comes with a burden of responsibility and an urge to always propel forward and never slow down and Amelia's a person that gives a lot and really bleeds herself out for other people and it catches up to her, and she has to realize how to manage all that."
Oh, and for anyone worried about Claire (Roslyn Ruff), Lincoln's caretaker, while Hornsby would find trusting her completely backfiring on his character to be interesting, it doesn't sound like that will be the case. "There are plenty of monsters hidden around the show, but they are not going to be the ones literally taking care of Lincoln, though that would be a fun plot twist," Bianculli says.
Lincoln Rhyme: Hunt for the Bone Collector, Series Premiere, Friday, January 10, 8/7c, NBC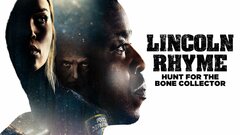 Powered by