'90 Day Fiancé' Episode 8: Cheers to That (RECAP)
[Warning: The below contains MAJOR spoilers for 90 Day Fiancé Season 7, Episode 8.]
This week on 90 Day Fiancé, we see strippers, Irish coffee, and of course drinking alone out of solitary sadness. Is this the best Christmas party or what?
The God-pin
Natalie is still crying on the bed, shaking after her stoic witch of a mother berated her all morning for not immediately having children. Mike tries to comfort Natalie, who says that she doesn't want her kids to be "confused" when they "see that their father and mother are not alike." Apparently she wants Mike to stop eating meat and start going to church, which sounds like exactly why Mike hopes one day he'll be abducted by aliens.
Someone needs to tell Natalie that their kid doesn't even exist yet and that this conversation is years away. "The 90 days hasn't even started yet and we're talking about kids, we're talking about religion," Mike says about their differing views. "I don't think it's a problem. We're all individual people. It's not a bad thing."
Shocking idea: why don't they let their kid choose what they believe in for themselves? Also apparently bowling is a literal sin according to Natalie, and yes, this subhead is a Kingpin reference.
Between a Rock and a Hard Place
Post-prenuptial discussion, Michael takes Juliana and his two kids to a rock climbing gym. Juliana proves that she wears the same size as Michael's young daughter CeCe, prompting CeCe to tell her she looks like a high school student. Also Michael brings back that swagger-filled newsboy cap.
Michael apparently broke up with Juliana before due to the pressure from his friends and family with the assumption that she "had bad intentions." Juliana turns it back on herself and says that she realized that she has "done nothing" in her life and she wants to be independent while acknowledging that there's a ticking clock on her modeling career. We're not totally sure how fast that clock is ticking though—she's 20something, but it's admirable for her to be so honest.
Juliana thinks her using the term "independence" triggers Michael because she believes he wants to control her to some extent. And as simple as that, Michael says he doesn't want to have a prenup anymore.
Props to That TLC Marketing
Angela and Michael finally hear back regarding his visa application. And guess what? Michael's visa was denied.
After years of dating and multiple seasons within the 90 Day Fiancé franchise, Michael was found ineligible for a visa. "I feel like somebody hit me in my damn belly. I really can't comprehend it," Angela tells the camera.
Angela vows to "find a loophole" and get Michael to the U.S. no matter what it takes. Hopefully she didn't watch the Netflix Fyre Festival documentary.
Have Your Cake and Eat It Too
Robert acknowledges that Anny is still frustrated with their living arrangements, but he tells the camera he knows how to "butter her up" so he can break the tension. For Anny's birthday, Robert and his son Bryson surprise her with a cake that looks surprisingly expensive and balloons. Bryson adorably makes a toast to cheers his new family.
Anny wants to go out dancing to celebrate. "I like to go to the disco a lot," she says. "I am a sexy girl and I like to show those parts that God gave me."
It quickly goes from Anny saying she wants to go dancing to Anny saying she wants to go to a strip club. Robert declines and she keeps pressuring him, calling him "boring."
Full Tony Soprano
Syngin sings and brushes his hair outside while donning a dark fluffy robe. So it seems like his month with Tania is more of a vacation than he realized. We are then supposed to believe that he does actually miss talking to her as he exclaims "what a glorious morning," which is just hilarious. Good for you Syngin, good for you.
Cut to Tania in Costa Rica where her braless-ness actually at least makes a little more sense. Tania explains that she's loving the herbalist program she's in, as well as going to be the beach daily and partying. "It's paradise and I love it," she says while she flirts while salsa dancing and declines Syngin's calls. Maybe they both are better apart.
Back in Connecticut, Syngin post-coffee mows the lawn, cuts weeds, and says he's just trying to kill time. He shares tiramisu with Tania's mom Missy and we realize why he was singing with his coffee: it was full of Jack Daniels! Syngin, you are a treasure.
Syngin explains that Tania has been unavailable, or when she does pick up the phone, she's distracted and just laughing with her friends. Missy assures him that Tania will never break up with him (remember, she needs to use him to make a baby) and then Missy jokes that make up sex is great anyways. Does anyone else think Missy and Syngin are a better pair? They need a spinoff show of them fixing up sheds and drinking together. Tania can just move to Costa Rica.
That Final Sting
Mursel calls his mother and sister to tell them about Anna's children. His sister says she always hated Anna, which is crazy because Anna is so sweet. Mursel's mother literally in Turkish says "screw it, come home" after he tells her about the three boys, and his sister focuses on the important issue of who will help with his bees when he returns. In classic Mursel form, he just sits there silently.
"They don't want you," he tells Anna when she enters the room.
"So no marriage?" Anna responds. Mursel nods and finally sheds some (and we mean like two) tears. He tells her he's leaving and that they "ruined everything" by telling the truth.
9021-Oh Just Stop
Jasmin and Blake, the most boring couple of the season, meet up with Blake's friends again solely for the purpose of exposing how annoying Jasmin is. She tells them she has no desire to pursue a career and prefers to be a stay at home mom. Just fast forward.
Pajama Party of One
Mike leaves Natalie to wander the streets of Kiev in his pajamas carrying a red Solo cup and contemplating life. It's pretty great.
Stripping Down
Anny and Robert head to the strip club where Anny says the pole dancers are sexy. She asks for a lap dance and he gets jealous.
The day after, they go out for coffee to nurse their respective hangovers. Robert tells Anny that he brought her to the U.S. to be a wife and a mother to Bryson and he doesn't want her going to strip clubs again.
He then asks her if she's ever been with a woman, to which Anny describes in detail one of her previous hookups while laughing. She proposes a threesome with Robert for his birthday or Christmas. He gets frustrated and says he doesn't want Bryson around that. "Obviously this relationship to you is a joke," Robert tells Anny.
Party and Bulls***
Continuing with joke relationships, Tania is getting ready to go out with her roommates and talks about finding cute guys. After one of her friends asks if Syngin knows about her partying, she tells them that she's definitely in a monogamous relationship. But in a classic Tania move, she pivots the conversation of her fidelity to discussing Syngin's race and background, which apparently justifies the fact that she's flirting with other men.
"Him being a cis white man, like he's got a lot of things that he needs to unlearn and that's a process. It's not Tania's job to teach him anything," her roommates tell the camera as they fan themselves.
Syngin calls, and one of her roommates observes that every time Tania and Syngin talk, they argue. And total shocker, they get into a fight while they're FaceTiming. She says it's too much to text him when she's out and she wants him to be happy for her. "If I have any more pep in my step, I'm going to be stepping out of here," Syngin tells Tania.
Even her friends can admit they're not a good match! Now why can't Tania realize that?
In the Name of Love
Michael tells three of his friends about his visa denial. He explains he's not just with Angela for the visa but that he truly does love her. "I just want to be with her," he says. Angela has had issues with Michael's friends in the past, and Michael speculates his friends' accusations are because they're just jealous of him.
Culture Clash
Mike returns home to Natalie after being gone for five hours. The two sit down to discuss their future. "I just don't want to feel like the enemy to her," he says to the camera. Mike tells Natalie that she makes him feel like a bad person because of his beliefs. "I'm not going to pretend I'm someone I'm not. I am who I am….We need to find a common ground."
Natalie starts crying and explains that she felt vulnerable after taking Mike to church. She apologizes and explains she feels insecure about the cultural differences and she's a self-described egotistical person. The two cuddle and cry while holding each other, and Mike comes clean with Natalie about his $30,000 debt.
She comforts him and says that she will help him pay off the debt. "You're a good man, everything is ok," she tells him.
Previews
Next week we see Anny meeting Robert's sister and complaining about their financial situation, and Robert's sister hits her with the hard truth: "Do you know he's poor?" Angela pursues other options like the spousal visa if she weds Michael in Nigeria, while Mike asks Natalie if she's ever applied for another K-1 visa.
Tania drunkenly calls Syngin from the bar and says she can't promise to let him know when she gets home. Blake finds out he maybe lost his job (??) as the Vice President of a music label. Anna's mother confronts Mursel for breaking up with Anna, and finally we see a sneak peek of Sasha and Betsy arguing about his lack of parenting skills. "Emily's expiration date is coming up," Betsy utters and it's too true.
Happy Holidays to all you 90 Day fans, and check back in two weeks for the next episode recap!
90 Day Fiancé, Sundays, 8/7c, TLC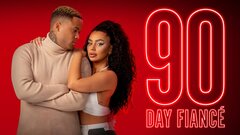 Powered by