Watch My Show: 'The People v. O.J. Simpson's Writers on What They Left Out, and Dreams of a Johnnie Cochran Spin-Off
Writers Larry Karaszewski and Scott Alexander are best known for films such as The People vs. Larry Flint and Man on the Moon. But a few years ago, producers Nina Jacobson and Brad Simpson gave them the challenge of their careers: Adapt Jeffrey Toobin's book The Run of His Life: The People v. O.J. Simpson into a TV event.
They did, and along with executive producer Ryan Murphy, the producers and writers attracted an group of all-star actors to portray the leading figures in the O.J. Simpson murder trial. We all know how it ended, yet it's a testament to Karaszewski and Alexander's scripts (and their group of staff writers) that The People v. O.J. Simpson: American Crime Story became this winter's most-discussed series. With the finale looming, we asked Karaszewski and Alexander to fill out our showrunner survey to explain why it's a crime to miss this story.
I've got room in my life to watch just one more show. Why should it be yours?
Larry Karaszewski: The OJ trial is one of the most pivotal events of our time. It affected race relations, the news cycle, celebrity coverage, and two innocent victims. People think they know everything, but they don't. We dug up tons of information. We take you inside the Bronco. We go inside the juror room. It's a 20-year-old story, but this show is full of spoilers!
Who should be watching?
Scott Alexander: Anybody between the ages of 10 and 100. It's a big entertainment with big ideas. This show is hugely relevant to the world that we live in. Race issues with the police are unfortunately now common events. What happened in 1994 wasn't new then, and it isn't old now.
What happens if we don't watch your show?
Alexander: You won't be able to talk to your friends this year. You'll be left out of every conversation.
What's the best thing anyone has said or written about your show?
Karaszewski: John Landgraf, who runs FX, said it's one of the best shows his network has ever done. FX is an amazing network, and that means a lot to us.
What's the worst thing?
Alexander: Some people complain that there is too much of the Kardashians. But the kids are only in five minutes out of ten hours! We thought it was fitting to acknowledge them, since the trial essentially invented reality TV.
What's an alternate title for your show?
Karaszewski: We already have two titles.
Alexander: I really wanted The People VS. O.J. Simpson. I wanted that "s" in "versus," but for some reason I was overruled. Maybe we couldn't afford that extra letter. We spent all the money on the Bronco chase.
Give us an equation for your show.
Alexander and Karaszewski: The People vs. Larry Flint plus Do The Right Thing plus Dog Day Afternoon plus Network plus Capricorn One minus the faked moon landing.
RELATED: Cheers & Jeers: The People v. O.J. Simpson Edition
Come up with a premise for the spin-off.
Alexander: Everybody asks us if we're going to do OJ's Nevada trial, but that's lame. So he tried to steal back his trophies. Who cares?
Karaszewski: If somebody offered us Cochran for the Defense, we might be tempted. Johnnie's a pretty incredible character.
What credit of yours would you like to forget?
Karaszewski: The answer used to be Problem Child, but now everybody under the age of 30 thinks it's a "classic."
Tell me one thing about your cast.
Alexander: Nathan Lane shaved his forehead.
Karaszewski: You'll forget that you're not watching the real people.
What other series would you most like to be an executive producer on?
Alexander: The Carol Burnett Show. I really loved it. It was great when Tim Conway would make Harvey Korman crack up.
Karaszewski: I'm a Green Acres man myself.
Let's scare the network. Tell us an idea that didn't make it on to the screen.
Karaszewski: Even though we had 10 hours, there was tons we couldn't fit in. O.J.'s pal Ron Shipp testified that O.J. told him about dreams where he killed Nicole.
Alexander: I was desperate to work in Marcia Clark's dental surgery. Trust me, it's better than it sounds.
RELATED: The People v. O.J. Simpson: Why People Watched the O.J. Media Circus Then and Now
Pick another show, any show to start a fake feud with.
Karaszewski: American Crime, because they stole our title. Though technically, they had it first.
What other show would you like to do a cross-over episode with — and how would that go?
Alexander: Louie could be one of our jurors. He spends the whole time trying to get dismissed.
How will your show change the face of TV as we know it?
Alexander and Karaszewski: The 10-hour examination of a true-life event was an amazing format for us. We were able to explore so many themes, giving attention to so many more characters, than we could ever do in a 2-hour movie. This is a fantastic medium.
The finale of The People v. O.J. Simpson: American Crime Story airs Tuesday at 10/9c on FX.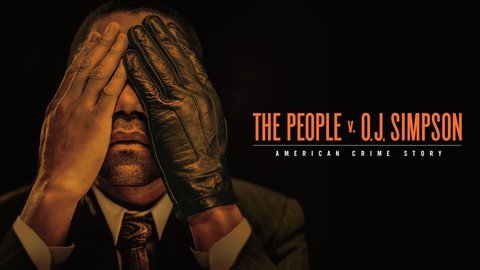 Powered by