'Limitless' Boss Previews Rebecca's NZT-Influenced Journey
In Tuesday's episode of Limitless, Rebecca (Jennifer Carpenter) learns the full truth about what happened to her father – and opts to take NZT.
"Rebecca is very driven," executive producer Craig Sweeny explains. "When she takes the pill, she's processing the massive revelations that are coming to her in the episode, and [using it] as a means of finding Sands as quickly as she can."
As Rebecca handles her time on NZT, Limitless viewers will be treated to a different visual look to the hour. "We decided to shift the episode totally over to her perspective," Sweeny says. "In other words, a typical Limitless episode is carried by Brian's voice-over, and he's the point of view character for the episode. Occasionally we break it for a scene at the FBI, but for the most part, Brian's point of view and voice-over carries through. We scripted it so we see it entirely through Rebecca's eyes."
RELATED: Limitless: Jake McDorman on Brian's Risky Decision, Rebecca's 'Scary' Turn
"She's our voice-over guide through the episode, the NZT experiences, for the viewers, are filtered through who Rebecca is versus who Brian is, which gives them a little bit of a different aesthetic," he continues. "She has her own emotional response to what the drug does to her, and how it can allow you to see other versions of yourself and people from your past. She may see, for example, her father for the first time in a long time. She has a powerful experience where she deals with a lot of the ghosts that have been haunting her the whole season."
RELATED: Limitless Fall Finale: Exec Producer Craig Sweeny on the Tragic Loss Caused by NZT
And though Rebecca and Brian (Jake McDorman) have been strained as she correctly suspected he was hiding something from her, the duo "make a temporary peace" as Brian helps her through her first NZT journey. "She, by no means, intends to let him off the hook, and she doesn't let him off the hook for what he's done," Sweeny says. "But a lot of the episode is Brian and Rebecca, both on NZT, working together, in spite of this massive rift that has come between them, to get to Sands and Piper. There is a kind of negotiated peace they work with throughout the body of the episode. She can ask him questions like, 'When you're on NZT, you see people?' He can guide her through the experience, even though they're not on the best terms."
Limitless, Tuesdays, 10/9c, CBS.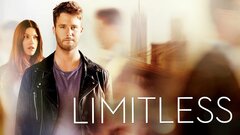 Powered by