Ask Matt: Emmy Long Shots, 'Blacklist''s Fake Out, 'BrainDead', 'Limitless', 'The Flash', 'Bones' and More
Welcome to the weekly Q&A with TV critic (also known to some TV fans as their "TV therapist") Matt Roush, who'll address whatever you love, loathe, are confused or frustrated or thrilled by in today's vast TV landscape. One caution: This is a spoiler-free zone, so we won't be addressing upcoming storylines unless it's common knowledge. Please send your questions and comments to [email protected] (or use the form at the end of the column) and follow me on Twitter.
Question: I guess it's getting to be Emmy prediction time. I know that he has zero chance to be nominated, but if I had a vote, I'd throw it to Timothy Omundson for Galavant, who I thought was the best part of a very funny show. (For my money, Galavant was infinitely funnier than the snore-fest that was Modern Family this season.) There are plenty of deserving actors and shows out there. Which ones that have next to zero chance of a nomination deserve some kind of recognition?
Matt Roush: A very well-timed question indeed, as this week's special issue of TV Guide Magazine (Seth Meyers on the cover) devotes six pages by yours truly to pointing out the breakout—and in some cases, dark-horse—candidates we'd like to see get nominated. A few on my list would seem have to have a fairly good chance—Mr. Robot, black-ish for Season 2, maybe Aziz Ansari for Netflix's Master of None—but the long-shots I'm especially eager to beat the drum for include Freddie Highmore of Bates Motel, Penny Dreadful and its dynamic duo of Eva Green and Patti LuPone (among others), WGN America's Underground, Crazy Ex-Girlfriend and its fearless star, Rachel Bloom, and though it was canceled, Fox's The Grinder is so original and deserving, and either or both of its brother act (Rob Lowe, Fred Savage) would be well-earned nominations. For the rest of the list, pick up an issue this week.
---
Was Liz's Return From the Dead a Cheap Stunt?
Question: A few things: It has been bothering me since the end of The Blacklist's season that they used the worn-out vehicle of faking a death so perfectly and using it to introduce Liz's father, although Ulrich Thomsen is a favorite of mine from Banshee. I think Liz should have remained dead and been replaced by her own evil twin sister, just saying. Also: So glad that you and other fans are bringing lots of attention to the great Person of Interest—but after watching last week's episode, I was just wondering with [at least] three new people obviously working with The Machine, could the producers possibly spin off another series, probably on another network, with these characters, and maybe some guest appearances with our already beloved stars?? It would seem to me to be a good opportunity. On another note, is Syfy's Hunters now apparently dead in the water. having been banished to midnight on Mondays? It is a good show and so much easier to follow than 12 Monkeys. — JV
Matt Roush: So you would have swapped one tired cliché for another? With The Blacklist, I made a point of avoiding most of the many "Is Liz really dead?" questions that flooded my mailbox during the time between her "death" and "surprise" comeback in the season finale. I kept wanting to say, "Have you watched this show, or even this kind of show?" Of course she wasn't actually dead. But agreed about Ulrich Thomsen. Loved hating him as Kai Proctor on Banshee (which I miss). Regarding a Person of Interest spinoff: That's a pretty good idea, following former "numbers" turned allies of The Machine. A lot depends on how Person of Interest wraps up its story (or doesn't) in next Tuesday's series finale, and whether the studio will aggressively try to find a new home for any future chapters. Until such a thing happens, I'll accept Person of Interest's finale as the end of the story. For now. And yes, I would presume that Hunters is a goner. While I did recently empathize with the complaints about 12 Monkeys going down too many rabbit holes, at least they're intriguing rabbit holes. Have to take exception with you on Hunters, which I found so dreary and derivative I could barely make it past the pilot.
---
Picking Matt's Brain About BrainDead
Question: What's your take on BrainDead? I know many didn't like the last couple of seasons of The Good Wife, but I liked the way they skewered the whole political process with both Alicia's and Peter's campaigns. Will BrainDead continue that social and political commentary? – Tommy
Matt Roush: If you missed my short review of BrainDead's premiere earlier this week, let's just say if you're looking for sophisticated social/political commentary, this may not be your show. But as a tongue-in-cerebellum sci-fi satire, suggesting that politicians in today's toxic environment have become even more extreme, after having their brains eaten by bugs from outer space, I find it something of a hoot. I also like the young leads (Mary Elizabeth Winstead, Aaron Tveit, and starting next week, Johnny Ray Gill and Nikki M. James as allies) and enjoy watching Tony Shalhoub and others ham it up as infected Pod People. This feels like a perfect summer show, not to be taken the least bit seriously.
---
Why Did CBS Have Limited Belief in Limitless?
Question: Why would CBS cancel Limitless and renew Code Black for a second season, when both shows had equally modest ratings? It doesn't make any sense that a broadcast network like CBS would unsuccessfully shop one show to other networks and digital outlets before officially giving it the axe, while they renew the other show! And do you think the upcoming "Flashpoint" storyline for Season 3 of The Flash will affect the other storylines for the upcoming seasons of The CW's other DC comics shows: Arrow, Supergirl and DC's Legends of Tomorrow? I was surprised that you soured so quickly on the second season of The Flash, since you were still raving about the show earlier in the season. I kind of agree with you that the show got heavy-handed towards the end of the second season, but it wasn't all that bad. Did you also sour on the fourth season of Arrow? The only part of Arrow that I can't stand anymore are the constant flashbacks of Oliver's life before being rescued off the island and his globe-trotting adventures. I always fast-forward through the flashback scenes on my DVR after I record the show. – Chris
Matt Roush: Networks cancel and keep shows for all kinds of reasons, and I would think the fate of Limitless had little to do with the decision to renew Code Black, though both pickups came down to the wire. CBS isn't the most generous network when it comes to shows on the bubble, and my own analysis of this situation is that the network probably sees an upside in nurturing the more mainstream medical drama in favor of the offbeat and riskier fantasy procedural. (I also thought the network would go the other way, and was at first surprised by this decision.)
In the case of The Flash, my dismay at what the season finale may represent for the show's future doesn't mitigate the fact that I still enjoy watching the show. And I haven't a clue how its toying with time will affect the other shows in its DC/CW universe. This is perfect show for crossovers, as we've seen, and I hope that somehow continues. As for the Arrow flashbacks: A classic case of a show outgrowing what was initially a key (and once compelling) part of its premise. If they scrapped it, I can't imagine anyone would care. Or maybe even notice.
---
Too Much TV to Track
Question: Now that the regular season is done, I have time to catch up on Netflix. I plan to watch Person of Interest, Orphan Black and Gilmore Girls, among many, many other shows. I never got around to watching Telenovela, Houdini & Doyle, Containment, Season 2 of True Detective, DC's Legends of Tomorrow or Supergirl. I've already deleted Angie Tribeca because it's just too dumb. I'm impatiently waiting for Mr. Robot on Amazon Prime. I have 341 shows on my sidereel tracker. Should I purge these and move on to better shows? Could you just curate my tracker for me? – Catherine
Matt Roush: You can't go wrong with Person of Interest, Orphan Black (which probably benefits from binge-watching) and Gilmore Girls, and since it sadly only lasted one season, checking out the campy Telenovela wouldn't be such a waste of time. Mr. Robot is a must. As for the others, though not knowing your predilections, I'd still favor Supergirl over Legends (if only because of the uneven ensemble work on the latter), while I had a negative critical reaction to Houdini, Containment and most especially, the insufferably pretentious second season of True Detective. Seriously, though, 341 shows? That's just terrifying.
---
Why Doesn't Fire Burn Brighter?
Question: I accidentally came across Halt and Catch Fire on AMC from the very beginning and I love it. There were doubts about the show being renewed for the second season and again for the third, but it has been. It's surprising to me that TPTB had any doubts, not just because Lee Pace is the most gorgeous man I have ever seen, but because of the powerful acting of the entire cast and the tightly written, character-driven scripts. I'm been wondering why there is so little press done on this show. The actors do not appear on other programs to promote the show, at least not that I've seen. Do you know why? – Phyllis
Matt Roush: Despite many critical raves, especially for the second season, Halt and Catch Fire has never caught fire in the ratings, which is why most series in this situation sweat out renewals each year. Can't really comment on the show's level of promotion (or lack of), as I don't track such things. But this tends to be a self-fulfilling prophecy. If it were a bigger hit, the cast would likely get more prominent and frequent bookings, which might help the show break through in a way it has yet to achieve (except with some critics).
---
Lightning Round
Question: I love Bones and am very sorry to hear that next season will be the last. Do you have any insight into why such a shortened season? Really wish they would have made it to 250 episodes. – JD
Matt Roush: 245, if I'm doing the math right, is nothing to sneeze at. Neither is 12 seasons, even if the last is only half a season. While the network and studio insist the various lawsuits (over profits) had nothing to do with considerations for Bones' renewal, this situation reads to me like a way to give the show, and its fans, some necessary closure while drawing the curtain on an operation that had become prohibitively costly and problematic to keep in perpetual production. This still appears to be going out more smoothly than Castle did.
Question: Now that Paget Brewster's series (Grandfathered) has been canceled, is there a chance she'll come back to Criminal Minds? — No Name
Matt Roush: If the character isn't dead, there's always a chance. (And given our earlier discussion about Blacklist, even death isn't always permanent.) I wouldn't be surprised if she makes an appearance every now and then if the story calls for it and if she's available, but I've always been under the impression that Paget Brewster is more at home in the world of comedy—that's where I've appreciated her the most—so having her return full-time might be a longer shot. Besides, Adam Rodriguez (CSI: Miami) has just joined the cast for next season, though that's more about filling the void left by Shemar Moore.
That's all for now. Thanks for reading. We'll pick up the conversation again later this month—I'll be away next week—but I can't do this without your participation, so please keep sending questions and comments about TV to [email protected] or shoot me a line on Twitter (@TVGMMattRoush). Or submit your question via the handy form below: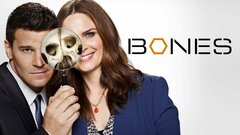 Bones
where to stream