Rome Flynn on His 'Bucket List' Role in Hallmark's 'A Christmas Duet'
From murder to music.
How to Get Away With Murder's Rome Flynn stars in one of Hallmark's offerings for Thanksgiving week, A Christmas Duet, as one half of a former pop music duo (and couple). Flynn's Jesse reconnects with Chaley Rose's Averie as a guest at her inn, and sparks once again fly between the two.
"As an actor, I just try to think about milestones in my career," Flynn told TV Insider. This is one of them.
Here, Flynn previews the love and music of A Christmas Duet.
What drew you to the Hallmark channel and this movie and role?
Rome Flynn: Doing a Hallmark movie was something I put on my bucket list as an actor. It's a staple to me because Hallmark has got such lineage and such a strong, loyal fan base that I wanted to have the opportunity to portray a person of color in a leading role in one of their films.
As we move forward in trying to create a diverse group of films and also projects, I wanted to have the opportunity to have the responsibility to portray that character in a light that reflects the world around me. When Hallmark reached out, I said yes.
Chaley Rose, who stars in the film with me, is very talented and can sing. The music aspect of it was a plus. I got to play guitar and sing Christmas songs. It was fun because I'd done a lot of stuff revolving around murder and drama and to do a Christmas movie in the summer, it felt very light and I felt like, "Wow, okay, cool, this is what it feels like to have Christmas twice."
We really tried to keep the movie grounded. Hallmark has their way of storytelling, and it was a collaborative effort on us as actors and also Hallmark allowing me to put more of my personality and things of that nature into the film.
When Jesse and Averie cross paths again, he's struggling in his career. How does reigniting that spark between them help him musically?
There's a connective tissue between people who are searching for something once they become an artist and also dealing with heartbreak and choices they've made. They play hand-in-hand. When he continued to do his music career, he lost a little of that and got lost in the idea of what he wanted to become instead of trying to stay true to what he should've. Seeing her made him realize that was the case — why he couldn't write, why he had writer's block when he's writing his album and he felt like it wasn't him.
Sometimes people can come back into your life and remind you of who you used to be. We'll see that transition with Jesse and Averie in a very cute way, but at the same time, you'll be able to identify, "I know what that is, I know what that's like." As an artist, we're always trying to reinvent ourselves and stay fresh, and seeing her made him think he could have both — be with her and be an artist.
And how does he help her? She has a lot going on at her inn.
He reminded her to enjoy what she's doing. She's been given this responsibility to do everything with her inn and for the town, and she got caught up in making sure everything went perfect. He reminded her it's okay for everything not to go the way you want it to and sometimes it's okay to just see what happens.
She missed music as much as she missed him, so there was a connective thing between the music and him that made her not want to do music anymore. Once she got over that, she got to go back to the person she was and realize, "Hey, I'm actually able to also do what I want to do and there's a world where I can sing and also run an inn."
And Jesse's relationship with his manager is important, because they're also friends.
I really enjoyed working with Mike. We call each other best friends in real life now. We just had good chemistry. We hung out, and hopefully it translates to the film.
[Dan] balances him out in a way. In a world where you don't know whose interests lie where, [Jesse] trusts him with that responsibility to help guide him. Other than him, I don't know if there's anyone else that helps [Jesse] navigate his career and also his life. [Dan] reminds him that he actually does love Averie and supported him in doing that. He also found love at the end, too, so everybody leaves happy.
A Christmas Duet, Movie Premiere, Monday, November 25, 8/7c, Hallmark Channel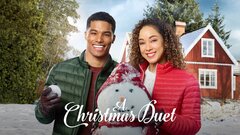 Powered by