'Dead 7's Jeff Timmons on Chasing Zombies, Plus an Exclusive Clip (VIDEO)
Grab your remote and saddle up those couch cushions as the Dead 7 ride onto TV on this Friday.
Syfy's latest original movie takes viewers to the post-apocalyptic Wild, Wild West, where a small town is besieged by a horde of zombies led by the mysterious villainess Apocalypta (MADtv's Deborah Wilson). This leads to the reluctant return of Jack (Backstreet Boys' Nick Carter), the reclusive hero who must round up a posse of the town's outlaws to help him get rid of this undead menace.
The movie's cast list is made up of a veritable who's who of 90s boy band members, including Carter's fellow Backstreet Boys A.J. McLean—who plays villain Vermillion, as seen in the exclusive clip below—and Howie Dorough, *N SYNC's Joe Fatone and Chris Kirkpatrick, 98 Degrees' Jeff Timmons and O-Town's Erik-Michael Extrada, Jacob Underwood, Trevor Penick and Dan Miller.
RELATED Syfy's Dead 7 Packs a Punch With Boy Band Members in a Zombie-Western Mashup
With the Dead 7 taking on the walking dead tonight, TV Insider spoke to 98 Degrees' Jeff Timmons about taking on the evil dead, what it's like working with so many boy band members and what sounds like an epic night of karaoke.
Tell me about your character.
I play Billy, he's one of the Dead 7 [and] Jack's younger brother.
What is his relationship with Jack like?
Basically [when] Jack left town, it made my character feel like he was abandoned by him. There's a sibling rivalry going there on throughout the movie. My character is sort of pouty and jaded the whole entire time. It so happens that Carrie Keagan who plays my love interest in the movie used to be his love interest. There's a lot of tension there.
How does Billy kind of get involved with the zombie fighting? Has the town just had zombies for a long time now?
Yeah. We've had our experiences with these zombies in the past. They've come back in droves and we've had to protect the town. It's been a while since we had this problem. This one is the worst it's ever been. All of a sudden zombies are everywhere. Apocalypta is behind the whole thing; she's joined forces with Vermillion to make it the worst sort of on slot of zombie madness ever. This time we all have to bond together and join forces and try to stave off these droves of the undead.
How was it going up against A.J. McLean as a villain?
He was pretty Method on the whole thing. [His character] is a cross between the Joker and Clockwork Orange. He was practicing his cackle and wanted to make sure his makeup was perfect. He really got into it. It was intimidating being in scenes with him because he's just such a natural at what he's doing. That particular scene was interesting because he pops out of nowhere. We hear him and we're trying to hunt him down and take him to the sheriff because he's out there killing people and doing ruthless things.
Almost every '90s boy band member ever is in this movie. What was it like working with everyone?
It was a blast. In my career, I've gotten to do some really cool things, but this is at the top of the list of the most fun I've ever had doing anything. All of these guys have had extraordinary careers and tremendous amount of success; you never know what people are going to be like. But when we got there it was a true peer group. We could all relate to each other really well. All of the guys have remained humble throughout the years despite the accolades and success they've had. We all really just hit it off. It was like a brotherhood. I almost had as much fun hanging out with them as I do my own group. It was a really great experience. We were all sad to see it end.
RELATED The Dead 7 Trailer Won't Quit Playing Games With Our Hearts (VIDEO)
Do you have a favorite moment either shooting it or in the movie?
There's a couple of things that were lots of fun. One of the nights we went out to the local karaoke dive bar; we all got up and sang karaoke. That was a memorable night. We were all getting up there and doing each other's songs. It was a blast. I think we got up and sang a Backstreet Boys song together, which was a really funny thing, led by Joey from *NSYNC. I think that dispels any rumors of any kind of rivalry. We've all had mutual respect for each other throughout the years, understanding what it's like to go through the ups and downs of the business. It was always interesting to us because the a lot of the media, or even fans, would try to see if we hated each other. Or pit us against each other. That definitely wasn't the case.
You know I have to ask, is there any singing in the movie?
There's no singing in the movie. I was hoping that we would do a video, or something like that, or even the song that we recorded together, but I think that the guys were trying to steer away [from that]. No matter what, people are going to associate us with our bands and our music careers. I think they were trying to really steer away from adding any musical element, or alluding to the fact that we're in groups in the movie. They wanted to keep it true to a Syfy zombie flick without alluding too much to the boy band. Although, it's inevitable that obviously everybody's going to be interested in that.
Watch the exclusive clip above and then tune in to the Dead 7 on Friday at 8/7c on Syfy.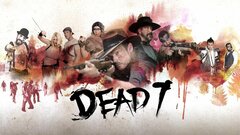 Dead 7
where to stream
Powered by