'Dead 7' Packs a Punch With Boy Band Members in a Zombie-Western Mashup
Backstreet's back, all right—and this time they're bringing a zombie apocalypse with them.
Nick Carter, of Backstreet Boys (and Dancing With the Stars) fame, has found his crown jewel in this Syfy zombie Western, which he stars in, wrote and produced. The off-the-wall B-movie takes place in a town overrun by a villainess named Apocalypta (MADtv's Debra Wilson), who uses the undead (and Backstreeter AJ McLean as her right-hand man) to wreak havoc. Taking down Apocalypta will prove a feat for the titular seven hired guns, portrayed by a rogues' gallery of boy-banders, including Carter's bandmate Howie Dorough, 'N Sync's Joey Fatone, 98 Degrees' Jeff Timmons and O-Town's Erik-Michael Estrada. Carter plays Jack, the gang's reclusive leader, inspired by his love of Clint Eastwood movies. "I have this thousand-mile stare that I use a lot of the time," he says.
VIDEO: Get Your First Look at Dead 7
Eight years ago, Carter began working on the gore-filled script. "It takes a long time, especially when you have no credibility whatsoever and you've got to figure it all out yourself," the singer admits. Things took a turn when he launched a campaign for the film on Indiegogo and it received $156,214 in funding. (A few superfans bought themselves roles as zombies for $6,000 apiece.)
Like Syfy's Sharknado franchise (whose production company, the Asylum, is onboard here as well), Dead 7 is dead serious. "We're not trying to be funny," Carter says. "It's so dramatic that it's funny." As for the movie's critical reception, he's fully expecting your hate tweets; in fact, he invites them. "Watch it! Hate it! That's a good thing—that means people are interested," he says. "I mean, dude, when you come from a boy band that has gone through people hating your music…I'm used to it."
Dead 7, Friday, April 1 8/7c, Syfy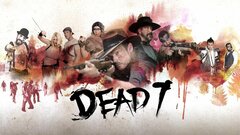 Dead 7
where to stream
Powered by