The 'Dead 7' Trailer Won't Quit Playing Games With Our Hearts (VIDEO)
Backstreet's ready to get down—to business, that is, by taking out zombies in the Wild, Wild West in Dead 7.
The Syfy original movie sees '90s heartthrob Nick Carter (who co-wrote and co-produced the film in conjunction with Sharknado production company the Asylum) step into the mantle of Jack, the reluctant hero who recruits a ragtag team of gunslinging boy band members (from Backstreet, *NYSNC, 98 Degrees, O-Town) to help dispatch the walking dead plaguing a small town.
But the zombie horde are the least of Jack and the gang's problems. From the exclusive image above, they will have to bid bye bye bye to Apocalypta (played by MADtv's Debra Wilson), the mysterious figure who's using the undead army to force the town into giving her their valuable resources. And if things couldn't get more dire, it turns out the current zombie outbreak isn't even the worst of it!
Rounding out the rest of the epic boy band reunion Dead 7 cast are Backstreet Boys' AJ McLean and Howie Dorough, *NYSNC's Joey Fatone and Chris Kirkpatrick, 98 Degrees' Jeff Timmons and (what seems to be almost all of) O-Town's Erik-Michael Extrada, Jacob Underwood, Trevor Penick and Dan Miller.
Dead 7 premieres Friday, April 1 at 8/7c on Syfy.
[jwplatform jeBepoEz]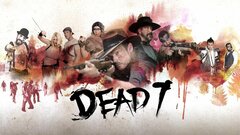 Dead 7
where to stream
Powered by