'Crazy Ex-Girlfriend's Vincent Rodriguez III Ponders the Idea of 'Crazy' Josh (VIDEO)
Josh Chan (Vincent Rodriguez III), the love interest responsible for making Crazy Ex-Girlfriend actually go crazy with his charm and good looks, knows he is making TV history representing Asian actors on primetime, but he wants to be clear that this is not a new thing in the real world. "I wasn't thinking like, oh crap, how is this going to be for me and Asians everywhere…I knew it was different and that it was something that hadn't really been done, but I didn't know to what length it was going to be done," the actor shared.
MORE VIDEOS: See All the Fun TV Insider Chats With Celebs
For Season 2, Rodriguez looks forward to exploring why the characters are who they are and also show fans that Rebecca (Rachel Bloom) isn't the only crazy one to watch out for. He also teased that more will be revealed about Josh in the finale, so fans should keep their fingers crossed!
Watch the video to learn what TV shows Rodriguez also binge watches and what he thinks about starring on Dancing With The Stars.
Crazy Ex Girlfriend, Mondays, 8/7c, The CW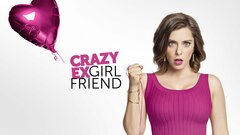 Powered by