Cheers & Jeers: Cheers to 'The Flash'; Jeers to 'The Walking Dead'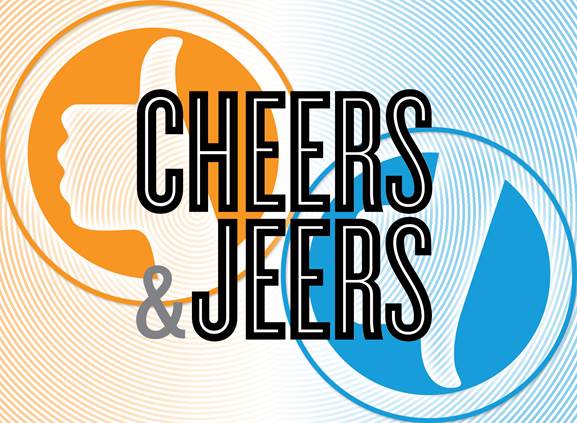 Cheers & Jeers is a safe place to shout about TV's recent hits, misses and ever-lovin' messes! Share your opinions in the comments below.
Cheers to the Marry Me reunion on Fresh Off the Boat
As if FOTB wasn't awesome enough, the sitcom doubled-down on the funny by bringing back the late rom-com's Ken Marino as Good Morning Orlando!'s too-tan host Gus for an episode that also featured Casey Wilson as Jessica's school drop-off nemesis. Sadly the pair didn't share any scenes together, but it's probably better off since it would just make us miss Marry even more.
Cheers to The Flash for getting the girl
To quote Cisco, "it only took us two years but we finally got one…a lady speedster!" With the introduction of DC Comics' fleet-foot Trajectory (Allison Paige), the superhero series gave Barry (Grant Gustin) an equally fast foil of the female variety who was long overdue, but sadly not long for this world.
Cheers to Younger for growing up so nicely
No longer just a "40something poses as a millennial" romp, the just-ended second season tackled weightier issues (death, divorce, self-worth) with a bubbling cocktail of humor and heart as effervescent as star Sutton Foster. Thank you, TVLand, for renewing this gem.
Cheers to American Crime Story's Selma Blair for breathing life into a kartoonish karachter
As the OJ-era Kris Jenner, Blair has magically made it seem like the Kardashian clan's fame-fed momager was actually a human being at one time. And that is even tougher to pull off than a pair of too-small gloves.
RELATED: Read More Cheers & Jeers
Jeers to The Walking Dead's latest death
Seriously, who do we have to bite around here to get Merritt Wever back on our screens?! The Nurse Jackie vet's Denise met a grisly demise at the business end of Dwight's arrow in a twist no one saw coming. Especially not Denise! We get the point, anyone can be a killer and everyone can be killed. We'd just rather it not be an Emmy winner we love so much.
QUIZ: Do You Know The Walking Dead Characters' Last Lines?
Jeers to Heartbeat for getting off on the wrong feet
Forget the prescription-strength clichés that plague this Grey's Anatomy wannabe. It was the scene in the pilot where Melissa George's rebellious but brilliant heart-transplant surgeon walked into a patient's ICU room without shoes on that got us sick. Did this woman never hear of MRSA?!
Jeers to Mischa Barton's Dancing with the Stars doldrums
Looking like she was forced to be there at gunpoint, The O.C. alum sleepwalked through her routine with partner Artem Chigvintsev during DWTS' season premiere, despite claims of being a natural dancer. It may take two to tango, but it only took one look at Barton to realize that her Dancing days are as doomed as Marissa Cooper was.