'Heartbeat's Melissa George on Seeing Her First (Real) Heart Surgery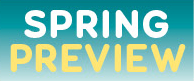 Back in 2009, Aussie actress Melissa George recurred as surgical intern Dr. Sadie Harris on Grey's Anatomy. Seven years later, she's getting a major promotion, starring as world-renowned heart-transplant surgeon Alex Panttiere on the new dramedy Heartbeat (the series moves to its regular timeslot on March 23 at 8/7c). As the good doc juggles her high-stakes job and raising two kids, she's also involved in a complicated love triangle with two handsome doctors. George fills us in on the new gig while, appropriately, breast-feeding her 4-month-old son in a park.
We've seen millions of medical shows on TV. How is this one different?
It's a character-driven drama, but with comedy. It's a tone that I haven't seen. You feel something, but then you're laughing.
RELATED: See All the Shows Premiering in Spring
Panttiere is romantically attached to two men, Dr. Pierce Harrison (Dave Annable) and Dr. Jessie Shane (Don Hany). Who are you rooting for?
I'm Team Jessie when I'm with Jessie, and I'm Team Pierce when I'm with Pierce. Like full, 100 percent, "This is the man for me; I'm completely in love." It's a bizarre place to be in.
Is it true that you witnessed a heart surgery to prepare for the part?
I scrubbed in, and I stood next to the surgeon. When he pulled out the saw, I said, "You're going to cut him open?" And he just looked at me blank, like, how else am I going to get to the heart? He said, "Don't worry, there's somebody next to you in case you pass out." And there was—there was a special "faint person" there to lay me down. But the fascination took over the queasiness.
Heartbeat, Series Premiere, Tuesday, March 22, 9/8c, NBC