'Archibald's Next Big Thing' Creator Tony Hale on Embracing Life's Curves With the Funny Chicken
Those familiar with comedy favorites such as Arrested Development and Veep would recognize Tony Hale in an instant, but now that actor's bringing a new character to the screen in a different way with Archibald's Next Big Thing.
Based on his 2014 book with the same title, Emmy nominee Hale's new DreamWorks series debuts on Netflix September 6 and tasks viewers with learning to embrace the unexpected bumps you encounter on life's journey.
Below, Hale fills us in on the project including what to expect from the quirky character he voices to reuniting with Veep costar Julia Louis-Dreyfus.
For those unacquainted with your book Archibald's Next Big Thing, what should they know about Arhibald?
Tony Hale: Archibald has become my role model [Laughs]. The way he embraces life is so fantastic to work with, and it's such as inspiration. In the book that I did years ago, he was learning the lesson of becoming present and now Archibald really treats every situation as his big thing. Fully. He sees the best in situations, and I'm still working on that.
I think living in a world where everybody's seeing the worst in everybody, everybody's seeing the worst, but when Archibald comes in, he just immediately sees the best. It's funny, he makes a lot of mistakes, but his attitude towards these mistakes is what gives them a greater purpose in the end. And I'm crazy about him. I'm absolutely crazy about him.
See Also
Plus, see an exclusive clip from the new episodes.
Archibald just knows life's a bit of a roller coaster and whatever happens, he's like, "all right, let's go with it." He's just fully yes and-ing it. And I would love to be more like that.
What has it been like to see your book come to life in this way and to be so involved?
Honestly, it has been like one of the biggest joys of my life. We started the process with my friends, and DreamWorks was kind enough to come onboard and do a pilot and then we sold it to Netflix. This whole process has taken about two and a half years. I came in having no clue how to do an animated show [and DreamWorks was] so patient with me in guiding me along the way. It has just been such a consistent bump of joy. I've just loved every minute of it.
Apart from Archibald, you're known for your roles in more grown-up comedies like Arrested Development and Veep, but you've made a jump to family comedy with this new show and your recent role as Forky in Toy Story 4. Is there a big difference between the genres?
I don't know if like there's much of a difference in terms of voicing. But I would say like I was so grateful to have that [Toy Story 4] job. Pixar's just a creative wonderland, but I will say the voices are such a small piece of the pie because the animators and artistry that went above and beyond for that movie is astonishing to me. It took five years or something to make and it is such a piece of art.
And having seen now with Archibald behind the scenes as to what goes on to make a show, it really gave me a whole new appreciation for the tremendous amount of work that goes into creating something like that. It is a real labor of love.
Did you always imagine yourself as Archibald's voice when you created the character?
Yeah, I think I selfishly wanted to do it just because I've had a history of struggling with anxiety for most of my life and because of a lot of therapy and awakenings and learning I've come to a different place. But to be able to voice and sit in the character of Archibald in that booth with his attitude towards life and freedom that he has, I love it.
How do you think the show's message would serve adult viewers?
It's a real funny watch. I think because having been on Arrested and having been on Veep, I wanted it to have a really good comic timing. I wanted to have really good jokes. But also I wanted it to have a lot of heart. I watch Archibald and his freedom to go with things as they happen and as an adult, I'm just looking at that and going, "Oh my gosh." Over time, we can kind of get set in our ways and we want things to go a certain way and unfortunately when we do that we lose a joy. We lose a freedom.
I would love to have Archibald's perspective. And there's so many different stories in the show where you see this uniqueness and how his temperament and his personality and his mindset and joy affects all those around him.
Your Veep costar Julia Louis-Dreyfus is guest starring in the show, what can you tell us about her role?
She plays a space monkey named Claire who lives in a space station in space and she's terrified of space [Laughs]. So Archibald accidentally gets shot up in a rocket and meets Claire. And through their journey together, she overcomes her fears.
What are you loving or bingeing on TV right now?

Oh my gosh.
I know, there are so many shows.
I'm really excited about the new Crown coming out, my wife and I loved watching that together. We watched Broadchurch together, which I love. I watch a lot of The Goldbergs with my daughter. I love The Goldbergs. It's a good show to watch with my daughter, and I think Jeff Garlin and Wendi McLendon-Covey are just so funny and those kids are so funny. It's also being a kid of the eighties. I love the clothes and the music and there's so much nostalgia wrapped up into it. So it's really fun to watch that and now my daughter knows all these songs from the '80s that I grew up with, so it's fun to share that with her.
Archibald's Next Big Thing, Series Premiere, Friday, September 6, Netflix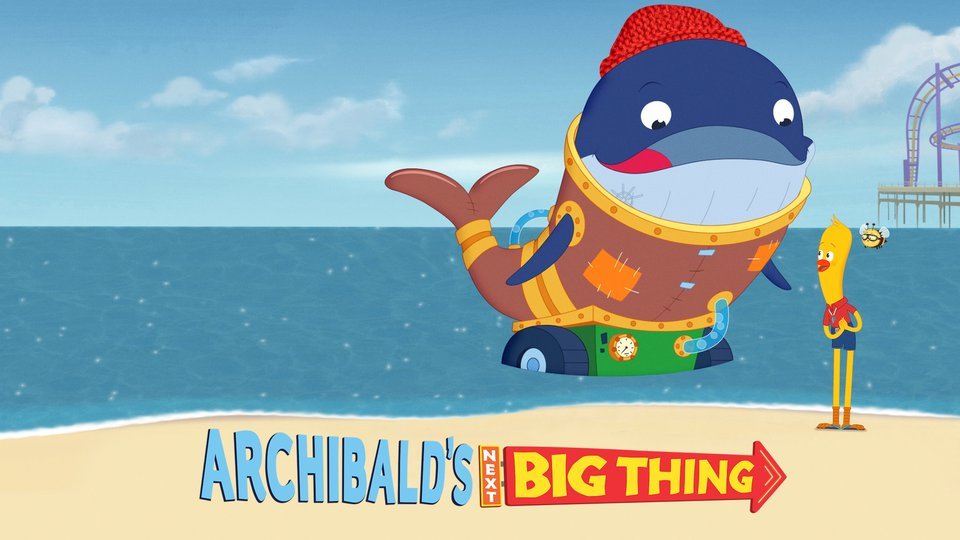 Powered by