'Sherman's Showcase' Sneak Peek: Damon Wayans Jr. Gives Montell Jordan the True Story Treatment (VIDEO)
If you haven't checked out IFC's sketch comedy series Sherman's Showcase you're missing out on some major laughs. But have no fear, because we have an exclusive sneak peek at the latest installment that is more than enough reason to tune in.
The August 28 episode, "July 8 1995," will be immersed in the '90s pop-culture scene as Sherman's producer calls it "the single best episode in the history of the show." Performers include Big Freddy Payne, a go-go band and a trailer for a film titled This Is How He Did It: The Montell Jordan Story.
This is where the laughs come, in a clip from the trailer featuring New Girl alum Damon Wayans Jr. and lyrics from the 1995 Montell Jordan hit "This Is How We Do It" peppered into the dramatic dialogue.
"South Central does it like nobody does," Wayans Jr. says while staring out a window in character as Montell Jordan. Suddenly, trouble is afoot when he learns his grandfather has been… shot! Then the bit leads into a funny back-and-forth about if only the "gang bangers" could "forget about the drive-bys."
Above, check out the clip filled with exaggerated emotion and the "true story" of how Montell Jordan's "This Is How We Do It" came to life. Plus, catch the full episode when Sherman's Showcase airs August 28.
Sherman's Showcase, "July 8 1995," Wednesday, August 28, 10/9c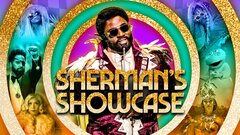 Powered by