Which Contestant Will Bust a Balloon on 'Hollywood Game Night'? (VIDEO)
How well can you name movies when you're given mangled versions of their titles?
On Sunday's episode of Hollywood Game Night, Shemar Moore, Iliza Shlesinger, Brooke Burke, Molly Sims, Brandon Routh and LaVerne Cox (and their civilian team captains) are put to the test in the popular new game, Scary Poppins.
In this round, the celebrities are put to the test with titles like "Locomotive Fender Bender" and "After Effect of Drunkenness." (That would be Trainwreck and The Hangover, for the record.) If they can guess correctly, they're safe and get points. If not, they have to inflate a balloon…and whichever team is the one to pop it also loses all their points for that round.
So who overinflates the balloon in this Sunday's first round of Scary Poppins? Check out the results in this exclusive clip.
Hollywood Game Night airs Sundays at 10/9c on NBC.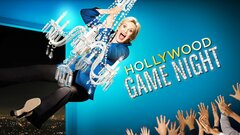 Powered by