'On Becoming a God in Central Florida's Kirsten Dunst on Her 'Rage'-Filled Krystal
From the second the camera alights on a can of spray cheese, you recognize the world of On Becoming a God in Central Florida.
The Showtime dramedy, set in an "Orlando-adjacent" backwater circa 1992, charts the stop-at-nothing climb of Krystal Stubbs (Kirsten Dunst) from water-park staffer to (she hopes) top sales performer for Founders American Merchandise. (Their specialty: generic household goods.)
"This show is set in the spaces in between," says showrunner Esta Spalding. "You're not going to see the ocean. You're going to see the strip malls and all the other places regular people inhabit."
Desperate for cash through no fault of her own (even the braces on her teeth are going to be repossessed!), Krystal leaps into the pyramid scheme with a single-minded zeal. "There's so much rage within her [for her situation]," says Dunst.
See Also
Plus, see what's next for the characters in the season teases.
But there's also real spirit: The actress says she sampled some clips of sassy Toddlers & Tiaras kid Honey Boo Boo "just to free myself up."
Krystal's twisted path to the American Dream might be her downfall. But the FAM company's motivational tapes say go-go-go: "God Almighty made this great nation so that you and your business could prosper." Look out.
On Becoming a God in Central Florida, Series Premiere, Sunday, August 25, 10/9c, Showtime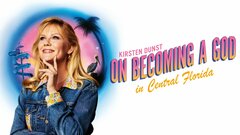 Powered by