'Hidden Potential's Jasmine Roth Reveals How She Works Her Makeover Magic
Hard to believe anything with the word cookie could be undesirable, but on HGTV's renovation favorite Hidden Potential, cookie-cutter homes are the enemy.
Sunny, imaginative Jasmine Roth works her makeover magic as both builder and designer in and around her base of Huntington Beach, California.
"I really get in there to help these homeowners 'unstick' themselves, to take that next step," she says.
Here's an introduction.
Her Brain Works Overtime
Every episode brings some custom creation to fit the homeowner's lifestyle. One neighborhood socializer got a front-yard "fence bench" — chat-encouraging seating attached to the pickets. For another client, Roth secreted a boot stash underneath the welcome mat. She's also carved multiple "dog caves" out of unused space beneath the stairs, mimicking her own prototype for English bulldog Nala and Tiger the Chihuahua.
"So many things I learned building my house I was able to transfer into solutions for families in my area," she says.
She Knows How to Entertain
Roth came to TV via her videos on social media and has developed an eye for what works on camera.
"Paint drying is not the most interesting thing," she acknowledges with a laugh, "but I will say, a good shot of [exterior] paint on camera goes a long way for before and after."
She's Got the Power
Scary as it sounds, homeowners hand over full creative control.
"I try to pick their brain as much as I can," says Roth, who requests online boards like Pinterest or torn-out magazine pages for inspiration. "I ask, 'What do you not like?' and that is the question people always know."
Hidden Potential, Mondays, 9/8c, HGTV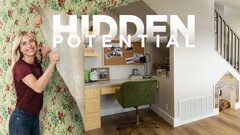 Powered by