Steve Austin Teases Big-Name Guests, Exploits & More in 'Straight Up' Talk Show
The new celebrity chat show, Straight Up Steve Austin, boasts of having "no couch." It does, however, have chairs — recliners, to be exact — mounted on go-kart chassis and then raced around the Cleveland Browns' stadium by Straight Up's host, Hall of Fame former pro wrestler Steve Austin, and his guest for August 26, Browns quarterback Baker Mayfield (above left, with Austin).
The man once dubbed "Stone Cold" has put his famed grip into a unique format that mixes loud-and-proud custom-tailored adventures with revealing conversations. For instance, in the August 12 series premiere, funnyman and former Marine Rob Riggle has a blast crushing cars with a tank — but also talks about heading to Ground Zero to help out in the weeks after the terror attacks of September 11.
"I laughed my ass off damn near all day doing this show," Austin says of his exploits, which include speed boating and smashing beers with Impractical Jokers' Sal Vulcano and racing muscle cars with comic Gabriel Iglesias. He also logged time tooling around at NASCAR great Dale Earnhardt Jr.'s compound near Charlotte, North Carolina: "He's extremely smart and a fun guy to listen to," Austin reports.
Viewers will find the same can be said for the Straight Up emcee. It's been 16 years since neck injuries forced him to hang up his black micro trunks, and Austin is now a seasoned TV host (CMT's Redneck Island and Steve Austin's Broken Skull Challenge) and podcast voice (The Steve Austin Show's June season premiere topped 1 million downloads).
In other words, this guy knows the ropes. "We're just trying to be entertaining," Austin says of the new series. "I'm not going to be Dr. Phil or Howard Stern. I'm me. I'm very interested in what people do and how they got to where they are. I'm more than a guy who can drink a lot of beer on TV."
Straight Up Steve Austin, Series Premiere, Monday, August 12, 11/10c, USA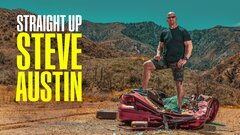 Powered by