'Empire's Return Will Answer 5 Huge Questions With More Twists and Turns
With the second half of E.mpire's sophomore season upon us, executive producer Ilene Chaiken gushed that "these are the best episodes we've ever done."
"I'm so excited about the second half of the season," she told TV Insider before the show's PaleyFest panel. "They're really, really rich, character-driven [hours]. Of course, there's huge Empire-worthy drama, but much more centered on the family. It's much more about how the family regroups. They join together against an external adversary—Camilla—to [try] and take the company back, and all the relationships shift."
RELATED: Empire Will Introduce Another Lyon Family Member
The first half of the season put a lot into a short amount of time—and introduced a whole bunch of new characters—but in the final run of episodes, the writers found the right amount of tension they could bring to the family, Chaiken said.
"We found a sweet spot of the show," she noted. "We still have the gasp-worthy Empire moments, the skeletons being yanked out of the closet, but a lot of the drama is relationship drama. It's about interactions among these characters, who love and hate between all of them… We're trying to be really true to those threads, and not to keep throwing new things at them because it's not necessary."
Chaiken and the cast shared what questions fans can expect to be answered in the second half of the season.
Who pushed Rhonda (Kaitlin Doubleday)? An intruder pushed a pregnant Rhonda down the stairs—and left her there—but the identity of her attacker might not be as clear-cut as fans think. "I'm not absolutely convinced Anika pushed Rhonda, and I don't think the audience should be, either," Chaiken reveals. And Anika (Grace Gealey) will continue to be a big presence in the Lyons family, as she contemplates how she'll handle her pregnancy…which Hakeem (Bryshere Gray) is still in the dark about. "Anika's trying to find her place in this family," Chaiken said. "All Anika ever wanted was to be a Lyon, and now she's going to give birth to a Lyon. Does that make her a Lyon? How's she going to work it, if she works it?"
Will Rhonda be able to cope post-fall? Even though Rhonda will survive her midseason-ending fall, another person won't be as lucky: "Somebody dies," Doubleday teases. And while Rhonda struggles to move on after her attack, "there's an alliance between Rhonda and a few interesting people you wouldn't see coming."
How will the loss of Empire impact everyone? With Empire Entertainment now firmly in Mimi (Marisa Tomei) and Camilla's (Naomi Campbell) hands, it's all hands on deck to try and get the Lyons their power back. But they aren't the only ones invested in seeing the company run well. "Porsha is a little more on her A-game versus carefree," Ta'Rhonda Jones (Porsha) says. "I think she's invested; she's as much involved as Cookie and everybody else. Otherwise, she would have quit."
RELATED: Why Ta'Rhonda Jones Slays Her Empire Scenes
Can Becky (Gabourey Sidibe) juggle love with work? Becky got lucky in love…but it might come at a price. "Becky is dating a rapper on the Empire label," Sidibe told reporters. "It's never a good idea to mix business with pleasure; I think you'll see how well she handles it or doesn't handle it."
What new romance is in store for Jamal (Jussie Smollett)? Jamal may have had a tryst with a woman in the first half of the season, but the writers of the Fox drama isn't changing his sexuality. "Jamal is very, very clear: I'm a gay man who felt attracted to a woman. But I'm a gay man," Chaiken insists. "It's where he lives, it's how he identifies, it's how he lives his life. Jamal's sexuality is still an issue; I think for most gay people, it continues to be part of the story of their lives. There are a lot of nuances to it. Homophobia—it just doesn't go away." As the season progresses, "we deal with the difficulties of being an out gay man," Chaiken previews. "[Jamal]'s also a public figure, having relationships with men. That's a story in the second half of the season…there's a new relationship and new issues."
Empire returns Wednesday March 30 at 9/8c on Fox.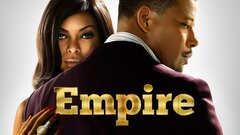 Empire
where to stream
Powered by