'Empire' Scoop: Get Ready to Meet Another Member of the Lyon Family
There are 59 more days until mama Lyon (Golden Globe-winning Taraji P. Henson) and Empire return to Fox for the second half of Season 2; that's a long time to go without some Cookie. But here's a tidbit to help get through the famine: executive producer Ilene Chaiken tells us the Lyon pride will get a little larger (and a little more dysfunctional) when a new family member arrives to shake things up.
According to Chaiken, "a really wonderful actor will join the cast as a member of the Lyon family whom we've never met before." And we're assured the arrival of the new character in Episode 14, which is set to air in mid-April, will stir the pot. Or maybe stop the music.
Time for some wishful thinking about who this Lyon will be and who should play the newcomer. Add your guesses to the comments below, or tweet them to us @tvinsider.
Empire returns March 30 on Fox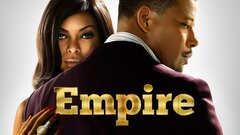 Empire
where to stream
Powered by