'Empire' Sex Scandal: Lee Daniels and Jussie Smollett Defend That Shocking Hook-Up
Spoiler alert! Stop reading now if you have not yet watched Empire's fall finale.
Yep, he's gay. But that didn't stop Empire's Jamal Lyon (Jussie Smollett) from hitting the sheets with his fellow singer Skye Summers (Alicia Keys), a tryst that happened off camera during the show's fall finale on December 2. In the previous episode of the Fox drama, a soulful kiss between the characters had many in the gay community in a state of social-media outrage, what with Jamal and Smollett being LGBT idols and all. Some argued that Jamal going bi reinforces the homophobic notion that a gay guy can be straightened out by the right girl. But Smollett and his Empire boss Lee Daniels—both openly gay—do not see this plot twist as a political misfire.
"I went into this hoping Jussie and I would not get backlash from our people," says Daniels. "But I'm prepared for it. This is a topic that needs to be discussed, not just on Empire but also within the gay community and especially within the African-American community. I was able to get a lot off my chest with the Jamal-Skye relationship."
And he had full backup from Smollett. "Jussie and I both share the same feeling that, yes, even though we are gay, we're sexual human beings," says Daniels. "And we do occasionally want to sleep with a woman. [Laughs] Maybe once every 10 or 15 years, but it happens! And there are a lot of people who don't want to hear about that. It's such a complicated conversation. It's not necessarily the body one is attracted to. You can be sexually attracted to the spirit, the energy, the life force in another person. We're showing life on Empire, and I won't apologize for it."
Smollett insists the Jamal-Skye hookup was not about sex. "It's about intimacy," says the actor. "These are two misunderstood people who connect when they create music together, something that happens all the time with artists. Skye and Jamal are brought together in a way the audience may not necessarily understand—and maybe it's not for anybody to understand except for them. This may sound crazy, but I think Jamal's thing with Skye is one of the most honest and pure relationships he's had in a long, long time. He's not getting anything close to that from men right now. Skye is an artist in a box who wants to break out of that box and no one understands that better than Jamal. They've both been labeled and that's something they can bond over. Right now, they only have each other."
Blame it on the Lyon family. "Jamal has been betrayed by every single person in his life, with the exception of his friend Becky," notes Smollett. "His parents, Lucious and Cookie, have repeatedly done him wrong. So have his brothers, Hakeem and Andre. So he's vulnerable. And then he sees this incredible soul who just happens to be a woman and he falls into the moment. Skye knows Jamal is gay but, in that moment of intimacy and connection, they give into each other. It's not bulls–t. It may be out of the ordinary but it's a very real connection."
Still, this is no romance for the ages. "Jamal is a gay man having a bisexual experience," says Smollett. "No one is saying he has fallen in love with Skye. But if you're gonna go straight for anybody, it should be for the sexy and brilliant Alicia Keys. I mean, Bruh!"
Empire's second season resumes Wednesday, March 30, 2016.
[jwplatform aeETRKnc]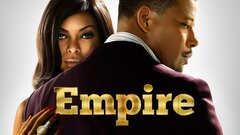 Empire
where to stream
Powered by