FX Picks Up Danny Boyle's Getty Family Limited Series 'Trust'
Jai ho!
FX has picked up a 10-episode limited series from Danny Boyle, acclaimed director of Slumdog Millionaire, Trainspotting, and 127 Hours. The family saga, entitled Trust, will focus on the kidnapping of oil fortune heir Paul Getty III.
Set in 1973, the series begins with the capture of Getty in Rome by mafia members looking for a multi-million dollar ransom. FX said in a release:
Trust charts the young man's nightmare ordeal at the hands of kidnappers who cannot understand why nobody seems to want their captive back. The Italian police think it's a prank and decline to investigate. Paul's father is lost in a heroin daze in London and refuses to answer the phone. Paul's grandfather—possibly the richest man in the world—is marooned in a Tudor mansion in the English countryside surrounded by five mistresses and a pet lion. He's busy. Only Paul's mother is left to negotiate with increasingly desperate kidnappers. Problem is, she's broke.
Boyle is directing and will also executive produce the series with Christian Colson and Simon Beaufoy, who is writing.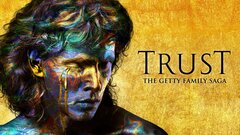 Trust
where to stream
Powered by