5 Questions With Harvey Guillén Of FX's 'What We Do In The Shadows'
In FX's hilarious vampire comedy What We Do in the Shadows, based on Jemaine Clement and Taika Waitiki's 2014 cult-classic horror mockumentary of the same name, Harvey Guillén steals every scene.
Guillén plays Guillermo, the lovable familiar (i.e., the non-vampire helper) of a vampire who was once a warrior in the Ottoman Empire but who is a little clueless on how to deal with life in modern-day Staten Island.
See Also
From those fangs to his cape.
In the May 29 season finale, "Ancestry," Guillermo helps Nandor find one of his living descendants. If you're new to WWDITS, don't fret — it's easy to catch up on the first season on the FX website of the FX+ app. — and FX has renewed it for a second season.
When we caught up with Guillén — after our sides stopped aching from laughing at the series' antics — we asked him our "5 Questions."
1. If your TV had only three shows or networks on it, what would you be watching?
I would be watching FX — I'm so excited for Fosse/Verdon. History channel. I love History channel. Then, the last one would have to be some kind of good, bad TV; I'm really obsessed with the whole franchise of the [Real] Housewives. So, I got everything: I got history, I got good scripted entertainment and then I got reality.
2. What three foods do you have to have in your refrigerator or pantry at all times?
Oh man, I just started doing this because I was in Toronto: kettle chips with truffle oil and Parmesan. It's so good. I'm just thinking about them, now I'm hungry. I really like Tim Tams — those are from Australia. And then, I probably would do Tajín and fruit, which is a Mexican dish.
See Also
Adapted from the 2014 mock-documentary cult film, the new 'Shadows' moves the action from New Zealand to New York City.
3. What movie can you watch over and over again?
Waiting for Guffman. I love the ridiculousness of this world where they put on a play and it's grounded and it's a mockumentary. Everyone's so good. I can watch that movie anytime.
4. Tell us about a time you were completely starstruck.
Right now! Michelle Williams was coming offstage, and she looks like a pixie and a fairy, and she walked right by me! We were wearing the same color pattern, so I think she acknowledged that without saying so. I really loved her in My Week With Marilyn. I've always thought she was so talented. I remember being little and watching reruns of Dawson's Creek and being like, "She's so good." Not that I knew. What did I know as a young kid watching her?
5. When you were a child, what did you want to be when you grew up?
I always knew I wanted to be an actor. I remember being 6 years old and I was watching Annie and I told my mom I wanted to be an orphan. And she looked at me weird — she's all, "Qué? El orphan?" And I was like, "Yeah, I want to be an orphan. I want to do what they're doing." She's like, "Oh, they're actors, they're kid actors." I was like, "I want to do that."
And so my friend found out that there was an acting class at the local YMCA for $12.50, and we didn't have that money. We were a low-income, single mom-led, immigrant family. I was like, "can I have $12?" And my mom was heartbroken and told me, "No, Mijo, we don't have money for that." But when I asked if I could take the class if I earned the money myself, she said, "Mijo, if you can earn your own money you can do whatever you want." And I thought, "Oh shit, I'm six years old. How do I make money?"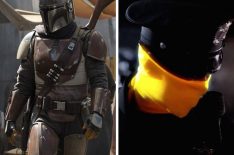 See Also
Next year is shaping up to be a great one for fans of genre television.
So one day we were walking home from school and I saw this guy pulling bottles and cans out of the trash cans and learned that you can earn money for collecting cans. So I went into my mom's closet, got a wire hanger and unhooked it and used it to reach into garbage cans to get aluminum. When I sold my first bag, only got $6.42 and I didn't have enough for the class. It took me four weeks to get the money.
What We Do in the Shadows, Wednesdays, 9/8c, FX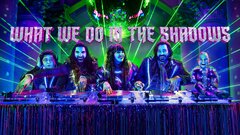 Powered by