'Damien' Raises a New Kind of Hell
The original enfant terrible is all grown up and, no offense to Pat Benatar, hell is not just for children anymore.
Four decades after little Damien Thorn first terrorized movie audiences in The Omen, A&E is unleashing its continuation of the creepiness with Bradley James (Merlin) as the now-grown demon spawn in a methodically paced, unsettling series that ignores the subsequent sequels and '06 reboot. So instead of a Satanic scoundrel out to overtake the world through politics and unholy alliances, series creator Glen Mazzara (who previously got under our skin executive producing The Walking Dead) has conjured up a normal-ish guy haunted by the kind of inner demons none of us would trade our souls for.
"The idea with this Damien is that he is very much one of us" explains James. "I don't think you're going to be seeing him throwing fireballs out of his eyeballs. He has a great deal of humanity about him, as we all do." Then with a devilish laugh of his own, the actor adds, "He also carries this excess baggage of being the Antichrist."
In tonight's slow-burn opener, we meet a Thorn who has chosen a career as a war photographer to "surround himself with pain," offers James, following a life that has included the deaths of his adoptive parents in the original film, as well as one of the most effed-up birthday parties ever and a ton of other dark, emotional upheavals. Soon, he begins to suspect that something other than epically bad luck may have been at play all of these years as increasingly ominous events begin to occur around him. With a disturbing debriefing from Barbara Hershey's malevolent "family friend" Ann Rutledge and the unwelcome attention of a protective rottweiler, Damien will eventually learn the horrifying truth about his family tree and what he must do to quell his daddy issues.
"He can no longer run," James says. "That destiny or whatever you want to call it is something that's caught up with him and asking him to fulfill it…that humanity within him is going to be challenged."
Oh hell yeah it is.
Damien premieres March 7 at 10/9c on A&E.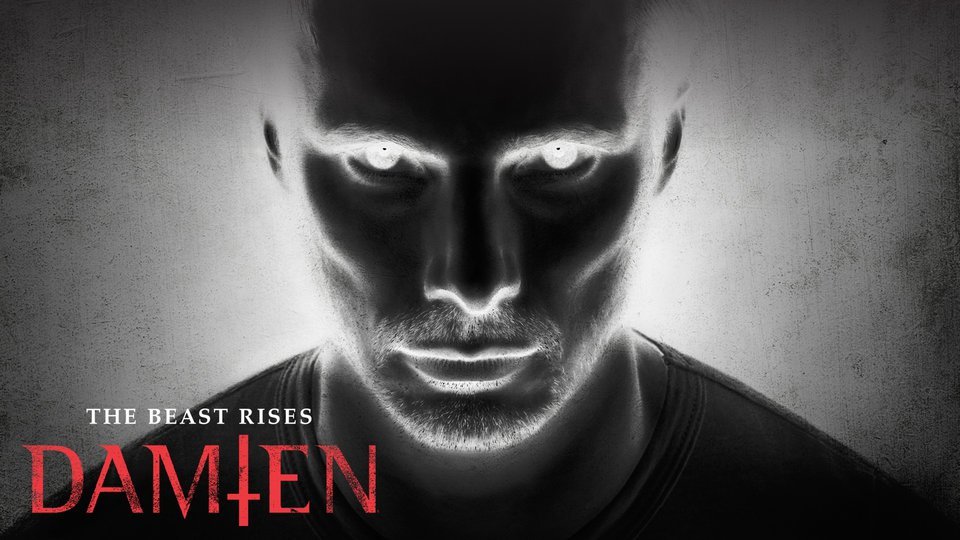 Damien
where to stream
Powered by