Watch My Show: 'Damien' Is For Fans Of 'Cinematic TV,' Says Glen Mazzara
The devil went down to A&E. The cable network's newest thriller Damien (airing appropriately after Bates Motel on Mondays) kicked off on March 7, and showrunner Glen Mazzara (The Walking Dead, Marvel's Agents of S.H.I.E.L.D.) tells us why you should be watching his demonically-inclined series.
Following the 1976 horror classic The Omen, Damien picks up with the adult Damien Thorn (Bradley James), now a war photographer in a tattered world of bad events. He's forgotten his horrifying childhood, but that quickly ends when he turns 30 and it's revealed to him that he's actually the Antichrist and that's why all those terrible things kept happening around him. Oops.
Check out Mazzara's answers below as to why you should side with Satan on this deliciously devilish series.
RELATED: Damien Raises a New Kind of Hell
I've got room in my life to watch just one more show. Tell me why it should be yours.
Weird deaths occur to those who oppose Damien. I wouldn't want anything unfortunate to happen to you.
Who should be watching?
People who dig cutting edge, cinematic TV.
RELATED: Read More "Watch My Show" Columns
What happens if we don't watch your show?
No worries. I'm sure it's on loop in Hell. You can catch it there.
What's the best thing anyone has said or written about your show?
My dad emailed me: "I hope this doesn't embarrass the family."
What's the worst thing?
"I can't watch. I don't like horror."
Who was right?
Dad. The show's actually a lot of fun.
RELATED: Damien: The Antichrist All Grown Up
What's an alternate title for your show?
My Friend The Antichrist
Give us an equation for your show.
The Omen + Elizabeth – 450 years (Three Days of the Condor + Don't Look Now) (Salvador + Marathon Man + Jacob's Ladder) = The Heat Miser3.
Come up with a premise for the spin-off.
After the Apocalypse, a group of rodents start to evolve into humanoids.
What credit of yours would you prefer we forget?
Criminal Minds: Suspect Behavior
Tell me one thing about your cast.
They have Game of Thrones viewing parties at Barbara Hershey's place.
What other series would you most like to be an executive producer on?
Santa Monica Dutch – The Shield spinoff that never happened.
Let's scare the network. Tell us an idea that didn't make it on to the screen.
I had written a ferry accident that threw hundreds of people into the water but we were shooting in Toronto in the winter. The ice on Lake Ontario made the stunt unsafe and unshootable.
Finish this sentence: "If you like _______, you'll love our show."
Screaming at the TV.
Pick another show, any show, to start a fake feud with.
Project Runway.
What other show would you like to do a cross-over episode with — and how would that go?
Naked and Afraid. Our cast would rock that but I would be the comic relief.
How will your show change the face of TV as we know it?
We're gonna give it a distinguished handlebar mustache.
Damien, Mondays, 10/9c, A&E.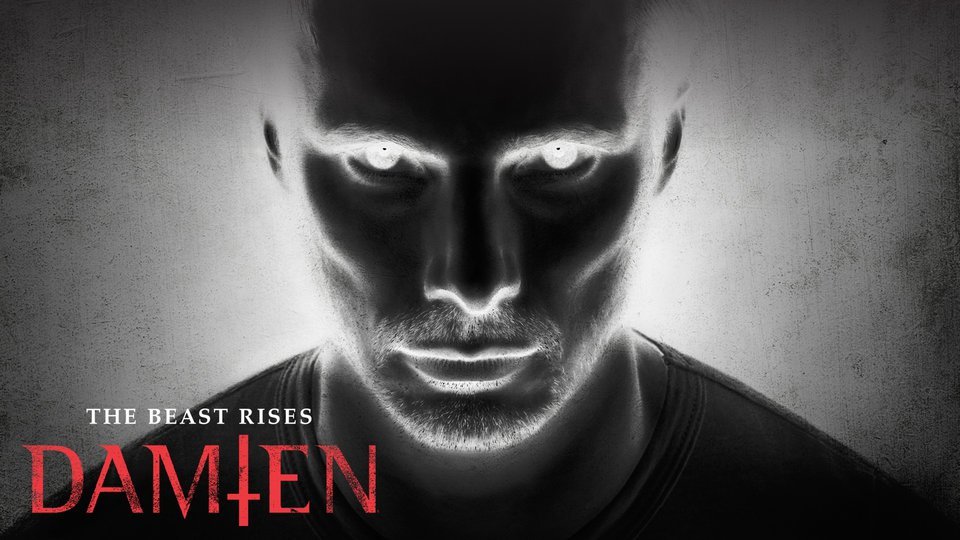 Damien
where to stream
Powered by