All the 'Jeopardy!' Records James Holzhauer Broke — and 3 He Didn't
Despite James Holzhauer's success on Jeopardy!, he didn't break all of the game show's important records.
Holzhauer won 32 games of regular-season play, losing to Emma Boettcher in his 33rd appearance. He earned a total of $2,464,216, and he did so well that the Jeopardy! official website dedicated a section to him (the James Holzhauer Tracker).
See Also
The contestant may be breaking record after record, but he's still human.
It listed the average money he won per game ($76,944), number of runaway games (29 out of 32), his response accuracy (97%), his average bet per Daily Double ($9,000), his total correct Daily Doubles (70 out of 74), and his correct Final Jeopardy! rate (97%).
With his wins, he held the record in a couple key categories, but there were some he didn't manage to beat.
He dominated the Single-Game Winnings Top-10 list
Before Holzhauer, Roger Craig held the top spot with $77,000 in his September 14, 2010, win.
However, after his 32-game winning streak, Holzhauer has taken over the list completely, eliminating Craig and Ken Jennings (with $75,000 on July 23, 2004) from it. He now holds every spot, with his $131,127 from the April 17 game at the top. (He first beat Craig's record on April 9 by winning $110,914. That win holds the fourth spot on the list.) He nearly beat himself with a win of $130,022 on May 27.
In order for a player to knock one of his wins off the list, he or she will have to earn at least $89,230 in a single game.
See Also
The 'Jeopardy!' host was diagnosed with cancer earlier this year.
He reached $1 million much faster than Ken Jennings
For regular-season play, only two contestants have taken home over $1 million: Jennings and Holzhauer. Jennings reached that mark in 30 games in 2004. Holzhauer reached it in just 14 games, on April 23.
He didn't even reach the halfway point of Ken Jennings' consecutive wins
Holzhauer ended his play at 32 games, which puts him in second place to Jennings' 74 games in 2004.
He got close to the Highest Winnings in Regular-Season Play record
Jennings sits atop that list with $2,520,700, but Holzhauer almost reached him, ending his run with $2,464,216, just $56,484 short of that record.
He's not at the top of the All-Time Winnings list (yet)
This list includes tournaments, and though he has yet to participate in one, he is already third in all-time winnings, behind Jennings' total of $3,370,700 and Brad Rutter's $4,688,436. Rutter won that in five regular games (at a time when contestants retired after five consecutive wins) and six tournaments and events.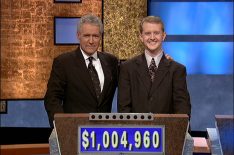 See Also
With James Holzhauer putting the show back in the news, a look back at his winning predecessors.
At the end of Holzhauer's run, Trebek said "we'll be seeing him again," so it's likely he'll have a chance to move up on that list with an appearance in a future tournament.
Jeopardy!, Weeknights, Check your local listings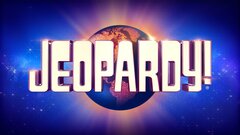 Powered by