Crazy Is the New Normal in the 'Killing Eve' Season 2 Premiere (RECAP)
[Warning: The below contains MAJOR spoilers for the Season 2 Premiere of Killing Eve, "Do You Know How to Dispose of a Body?"]
There is no escaping the insanity in the highly-anticipated second season of Killing Eve. The psychosexual spy-drama is back and picking up immediately from the blood-stained cliffhanger of the first season, which saw international assassin Villanelle (Jodie Comer) on the run after being stabbed in the gut by MI5 agent Eve Polastri (Sandra Oh).
Emerald Fennell has taken over the showrunner reigns from Phoebe Waller-Bridge, but fans need not worry about any sort of tonal shift. The Season 2 premiere is full of what made the show the breakout hit of 2018. Pulpy violence. Sharp dialogue. Dark humor. That trademark juxtaposition between the macabre and the mundane (a particular favorite of this episode sees Eve and Carolyn scoffing cheeseburgers in front of a cold cadaver). And, of course, the enigmatic central performances from Jodie Comer and Sandra Oh, the aforementioned Villanelle and Eve.
See Also
Plus, find out more from the cast and EPs about the new assassin joining the story.
If Season 1 was a game of cat-and-mouse turned twisted obsession, then Season 2 deals with the consequences and complexities of that obsession. For Eve, who believes she might have killed Villanelle, that means taking a step back and trying to regain a sense of normality. In her line of work, Eve is the person expected to hunt down criminals; now she finds herself on the other side of the law, crouched in train station restroom disposing of a bloody kitchen knife. This is not normal behavior, even in her deranged and dangerous job, and she knows it.
When a woman at the train station bar senses Eve's distress, and incorrectly presumes she is a "junkie" in need of advice, Eve breaks into an uncontrollable fit of cathartic laughter. On the surface, she's relieved that the friendly stranger is not someone from the criminal underworld sent to do her in. But you also get the impression that Eve is laughing because drug addiction would be a welcome and almost reasonable problem to have compared to the screwed up situation she's got herself in.
See Also
'It's been great fun having people intrigued by the trio of women: the good one, the bad one and the boss,' says star Fiona Shaw.
Back home in London, Eve attempts to let go of her infatuation with the globe-trotting hitwoman. She wraps herself in the comfort of the daily grind whether that is cooking a roast dinner or accepting a cold call from a window salesman (much to the caller's surprise). The ordinary has suddenly become appealing. But these are acts of a desperate person whose mind is obviously elsewhere. After all, in her vegetable chopping frenzy, she forgets to cook the chicken, and her cold call results in buying "a s**t ton of really expensive windows."
There is still a distance between Eve and her husband Niko (Owen McDonnell) too. There are things she can't bring herself to tell him no matter how many times he says she can trust him. Her privacy is partly for Niko's own safety, but the secretiveness is starting to destroy their marriage. Niko doesn't know how to deal with his wife's emotional anguish — at one point he walks out of the room as Eve cries tears into the bathtub. The fact that Eve can't make it work with Niko, who is the show's epitome of "normal," tells us how far off the beaten track she has gone.
Villanelle, on the other hand, has no time for normal. She embraces the madness. Wounded but still standing, she manages to flee Eve and the assassins disguised as paramedics who rush her apartment complex (RIP Madame Tattevin). After throwing herself in front of a taxi, Villanelle is taken to a nearby hospital where she tells the doctors she was attacked by an abusive spouse and urges them not to contact the police. It's not long before she is up to her old tricks and treachery.
While in the hospital, Villanelle "bonds" with her bedside neighbor, Gabriel (Pierre Atri), a good-natured teenager who was disfigured in a car accident which killed both his parents. She manipulates the heavily-bandaged Gabriel into stealing a nurse's ID badge so that she can go undercover and raid the drugs cabinet – there is a brilliant look of disgust when she realizes crocs are part of the disguise. Villanelle also finds herself delivering made-up test results to an anxious loved one as she stalks around the ward like Heath Ledger's Joker in The Dark Knight.
Eve once referred to Villanelle as a "woman-child," and you certainly get a sense of that here as she geeks out about the stickers and lollipops reserved for the child patients. There is also a sort of sibling banter between her and Gabriel, who lends her a fetching pair of comic-book print pajamas. "You snore," he tells her. "Well, your parents are dead," she replies matter-of-factly.
It almost feels like Villanelle cares for the young man. She provides a shoulder to cry on as he laments about not being able to live a "normal life" due to his injuries. "Normal is boring," she says before snapping his neck; fulfilling a psychotic urge as much as she is showing an act of mercy.
Where Eve's brush with Villanelle sent her scuttling back to the monotony of fresh veg and cold calls, our favorite psychopath only seems more bewitched with the woman that tried to kill her. The way she talks about the stabbing with Gabriel is as if she's describing an intimate act of love. "I know [Eve] better than she knows herself," she says, and the scary thing is, she might be right. For as much as Eve tries to run from Villanelle, she always ends up on the same path whether she wants to or not… and we know a big part of her wants it.
As Villanelle wheels herself out of the hospital and into the trunk of holidaying family's car, Eve is dragged back into the fold by MI6 boss Carolyn Martens (Fiona Shaw). "Whether you work for us or not, Villanelle will come for you," says Carolyn, who offers Eve her old job back. New information has come to light following the death of Alister Peel – the owner of a major data tech company. According to Carolyn, while Villanelle was incarcerated, she slipped a note under her cell door which was addressed to Eve and had Alister's name on it.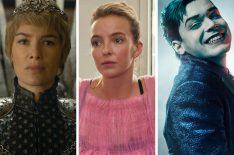 See Also
Villains. Sometimes we hate them, sometimes we love them, and sometimes... we hate how much we end up loving them.
We don't learn much about Alister or the Peel family here but I suspect they're going to play a vital role in the season, especially as far as reconnecting Eve and Villanelle, who are destined to meet again in this beautifully twisted series which, thank god, show's no signs of ever being normal. Bring on the crazy!
Additional Notes
-I love that Eve and Villanelle's go-to comfort food is confectionery. Eve with her giant bag of pick 'n' mix candy and Villanelle with her lollipops.
-"It's chic as s**t!" – Eve describing Villanelle's apartment.
Killing Eve, Sundays, 8/7c, BBC America and AMC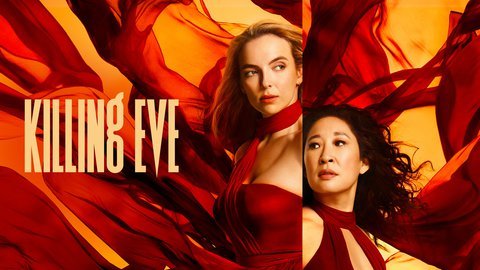 Powered by